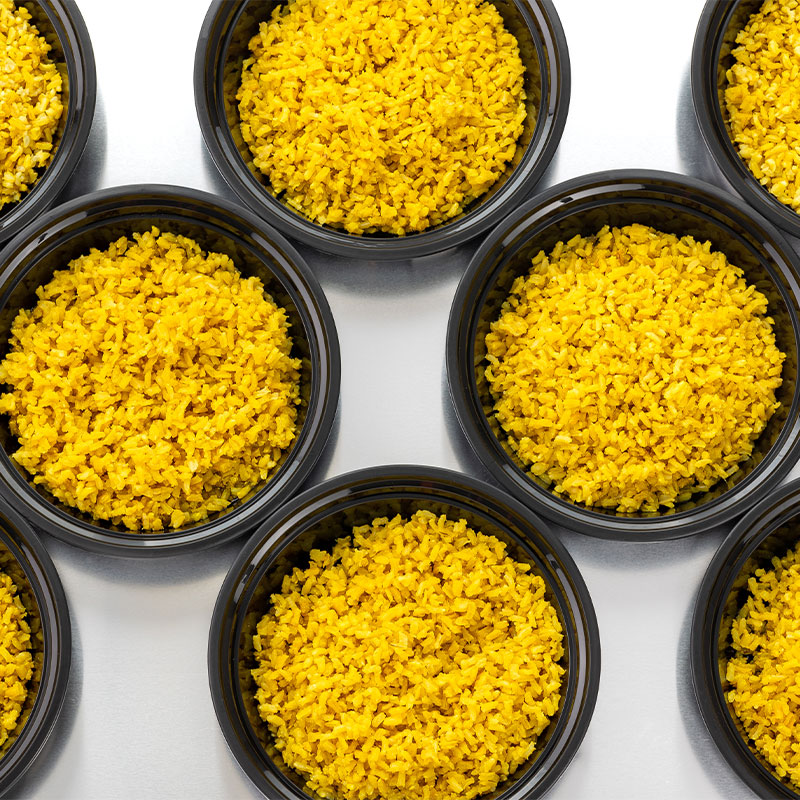 Yellow Rice
Students of all ages will love our yellow rice. This staple rice dish is found in many global cuisines and is flavorful, fun, and versatile.

This tasty K-12 school recipe was created for us by our friend Chef Sam Cowens-Gasbarro. Click on the PDF below to download the full recipe with crediting from the USDA Food Buying Guide recipe analysis workbook (RAW).
Servings

50

Serving Size

1 cup
Ingredients
6½ pounds brown long grain, parboiled rice, dry

½ cup vegetable oil
6½ quarts low-sodium vegetable stock
Yellow Rice Seasoning Blend

4 tablespoons turmeric

4 tablespoons garlic, granulated

4 tablespoons onion, granulated

½ teaspoon kosher salt
Directions
Create seasoning blend by mixing all seasonings in a small bowl.

Combine rice, oil, seasonings, and stock into a steamtable pan. Stir to combine. Cover tightly.
• For 50 servings use one, 4-inch full steamtable pan.
• Parboiled rice: cook in a 350 °F oven for 35 to 40 minutes.
CCP: Heat to 135 °F for at least 15 seconds.

Remove from oven or steamer and let sit for 10 to 15 minutes.

Remove cover; fluff rice before serving.
CCP: Hold warm, above 135 °F for service.
Recipe Notes
One cup portion provides: 2 oz. eq. whole grains

This recipe makes 50, 1 cup servings or 100, ½ cup servings

CCP: for leftover rice, cool from 135 °F to 70 °F in 2 hours and from 70 °F to 41°F in 4 more hours.

Seasoning mix can be premade in bulk and stored.

Recipe source: Samantha Cowens-Gasbarro, Healthy School Recipes
Nutrition Facts
Serving

1 cup cooked

Calories

270kcal

Total Fat

4g

Saturated Fat

.5g

Cholesterol

0mg

Sodium

90mg

Carbohydrates

51g

Dietary Fiber

4g

Sugar

1g

Protein

5g