February 6, 2017
Colleges and Universities Embrace Local Sourcing
Volume 1, Issue 1 | February 2017
Colleges and universities across the country are increasingly adding locally sourced ingredients to their menus.

It's a great way to appeal to socially minded students—it supports the area economy, benefits the environment, and creates a more meaningful connection between the student and farmer. That's why USA Rice is the perfect match for foodservice operators in the C&U sector looking to beef up current locally sourced offerings. Each year, 18 billion pounds of rice are grown and harvested by local farmers in Arkansas, California, Louisiana, Mississippi, Missouri, and Texas, accounting for nearly 85% of the rice we consume in America. It's easier now more than ever to choose U.S.-grown rice!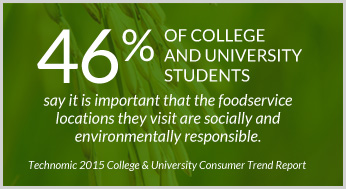 By adding U.S.-grown rice to menus, students will love that they are eating something that is not only good for them, but good the environment—American rice farmers have a longstanding commitment to protect and preserve natural resources. Over the past 20 years, American rice farmers have increased rice yields by 53% while decreasing land use by 35%, energy use by 38%, and water use by 53%—with no GMOs.
USA rice enhances local menu offerings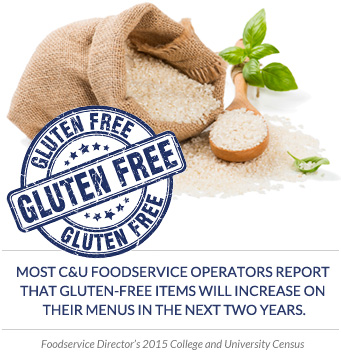 Rice is gluten-free and one of the least allergenic grains
. It is an ideal food to serve students who are allergic to gluten and cannot eat wheat-based products, and it's a good choice to feature in gluten-free menu items. Pair it with locally sourced eggs for a hearty and savory gluten-free breakfast dish.
Rice roams the globe
. It's an essential component of so many popular cuisines, including Thai, Indian, Japanese, Chinese, Vietnamese, Turkish and more. With rice on your menu, you can take your students around the world while keeping local sourcing in mind.
Rice is a low-cost ingredient that provides great plate coverage
, reducing your need for expensive center-of-the-plate proteins. Think jambalaya, paella, risotto, fried rice—all potentially low-cost, high-margin dishes. Have a themed night in your dining hall to highlight rice-focused cuisine and make special call-outs to the local ingredients, including U.S.-grown rice.
Recipe Ideas
These flavorful rice dishes are healthy and delicious.
Learn more
about U.S.-grown rice for foodservice today!