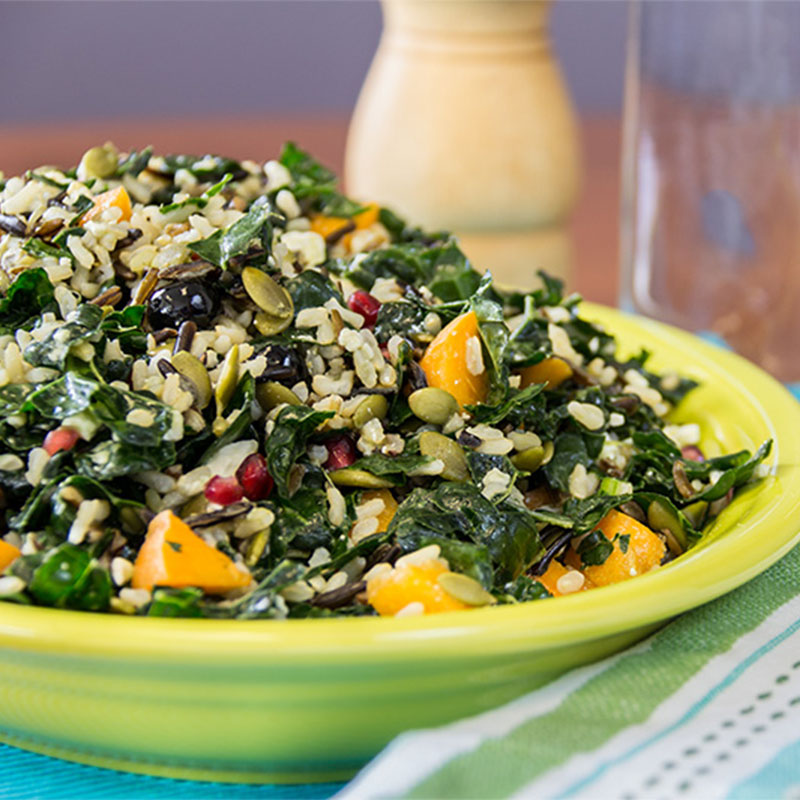 Wild & Brown Rice, Massaged Kale Salad
Explore the Wild Rice recipe contest winner!
Ingredients
4 cups kale

½ teaspoon salt

½ lemon, juice and zest

2 tablespoons + 1 teaspoon extra virgin olive oil, divided

¼ cup pumpkin seeds

¼ cup orange juice

1 clove garlic, minced

salt and pepper, to taste

1 cup cooked wild rice, cooled

2 cups cooked brown rice, cooled

6 ounces blueberries

8 dried apricots, chopped

½ cup pomegranate seeds

¼ cup feta cheese, crumbled (optional)
Directions
Place the washed, stemmed and cut kale into a large bowl. Sprinkle with salt, lemon juice and zest, add 1 teaspoon olive oil. Massage the kale leaves between your hands until you see the kale turn a dark, shiny green.

Toast the pumpkin seeds by placing them in a dry skillet over medium heat. Stir the seeds with a wooden spoon until then begin to puff up and turn slightly golden. Remove the seeds from the heat and set aside to cool.

Make the dressing by whisking together the orange juice, olive oil, garlic and salt and pepper.

Combine the massaged kale, wild and brown rice, blueberries, apricots, pomegranate seeds and pumpkin seeds in a large bowl. Mix in the dressing.

If desired, top with the crumbled feta cheese. Serve immediately.
Nutrition Facts
Calories

260

Total Fat

11g

Cholesterol

10mg

Sodium

125mg

Carbohydrates

38g

Dietary Fiber

4g

Protein

8g