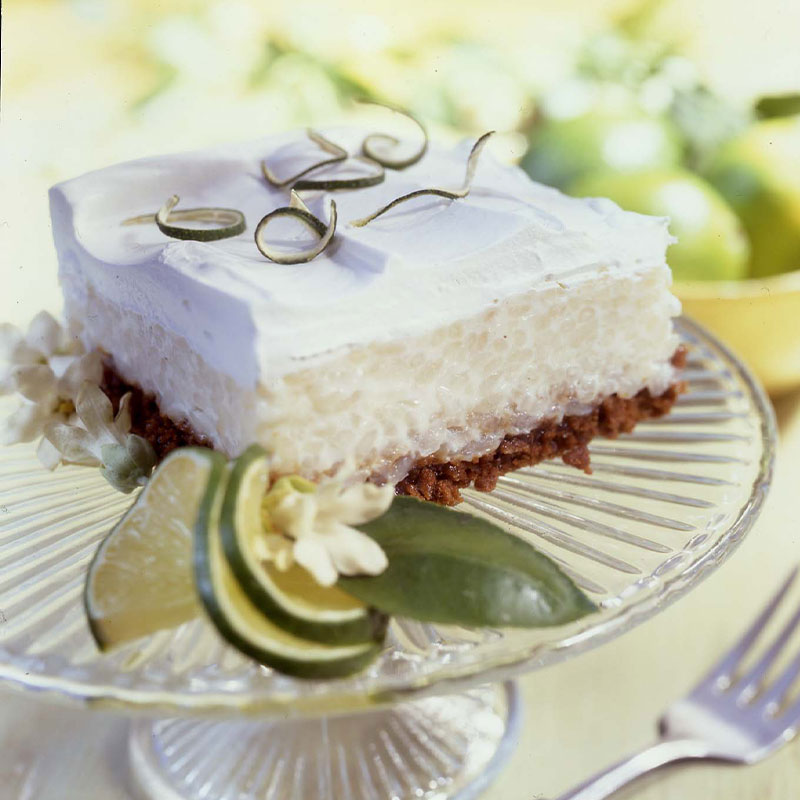 Tangy Lime Rice Pudding Squares
"Rice to the Rescue!" Recipe Contest Winner - Priscilla Yee
Servings

16

Serving Size

1 bar
Ingredients
2 cups gingersnap, crumbled

⅓ cup butter, melted

3 cups cooked medium grain rice

2 cups milk

1 (14-ounce) can sweetened condensed milk

½ cup fresh lime juice

1 cup whipping cream, whipped

lime peel (optional)
Directions
Preheat oven to 350 degrees.

Crust: Combine gingersnap crumbs and melted butter in medium bowl; stir until blended. Press mixture along bottom and sides of 13x9x2-inch baking dish. Bake for 10 minutes.

Filling: Combine rice, milk and sweetened condensed milk in 2-quart saucepan. Cook over medium heat until thick and creamy (20 to 25 minutes), stirring frequently. Remove from heat and stir in lime juice. Pour filling into prepared crust. Chill.

Spread whipped cream over pudding. Cut into bars and garnish with lime peel, if desired.
Nutrition Facts
Serving

1 bar

Calories

264

Total Fat

11g

Cholesterol

26mg

Sodium

126mg

Carbohydrates

38g

Protein

5g