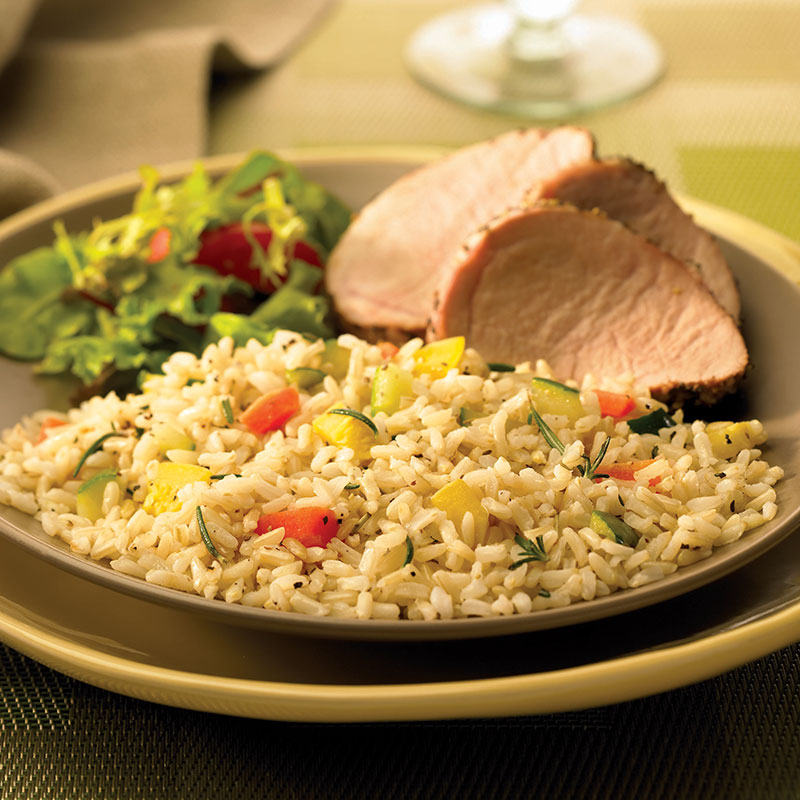 Confetti Rice Pilaf (For 50+)
Recipe developed for USA Rice by Chef Cyndie Story, PhD, RD, CC. Click on the PDF below for complete nutritional information and recipe information for 50 & 100 servings.
Servings

50

Serving Size

¾ cup
Ingredients
6 cups brown rice, parboiled, uncooked
6 ¼ cups carrots, fresh, sliced or diced
6 ¼ cups zucchini, fresh, sliced or diced
6 ¼ cups summer squash, yellow, fresh, sliced or diced
2 quarts, 1 pint vegetable or chicken broth, low sodium
1 tablespoon, 1 teaspoon garlic, minced
2 teaspoons black pepper, ground
2 tablespoons basil, fresh, chopped
Directions
Lightly coat 2 steam table pans with pan release spray. Place 1 lb 4 oz rice into each steam table pan (12" x 20" x 2 ½ ").
Place 1 pound each of carrots, zucchini and yellow squash in each steam table pan.
Add 5 cups broth, 2 teaspoons garlic, 1 teaspoon black pepper, and 1 tablespoon fresh basil (1 ½ tsp dry basil) to each pan. Stir thoroughly to combine.
Bake, uncovered, until rice is cooked and carrots are tender. Conventional oven: 350°F for 45 minutes. Convection oven: 350°F for 30 minutes. (For convection ovens, partially cover each pan with foil.) *Critical Control Point: Hold for service at 135⁰F or higher.
Portion with 6 fl oz spoodle (¾ cup).
Nutrition Facts
Serving

¾ cup

Calories

106

Total Fat

.82g

Saturated Fat

.17g

Cholesterol

0mg

Sodium

31.59mg

Carbohydrates

22.57g

Dietary Fiber

1.71g

Protein

2.58g