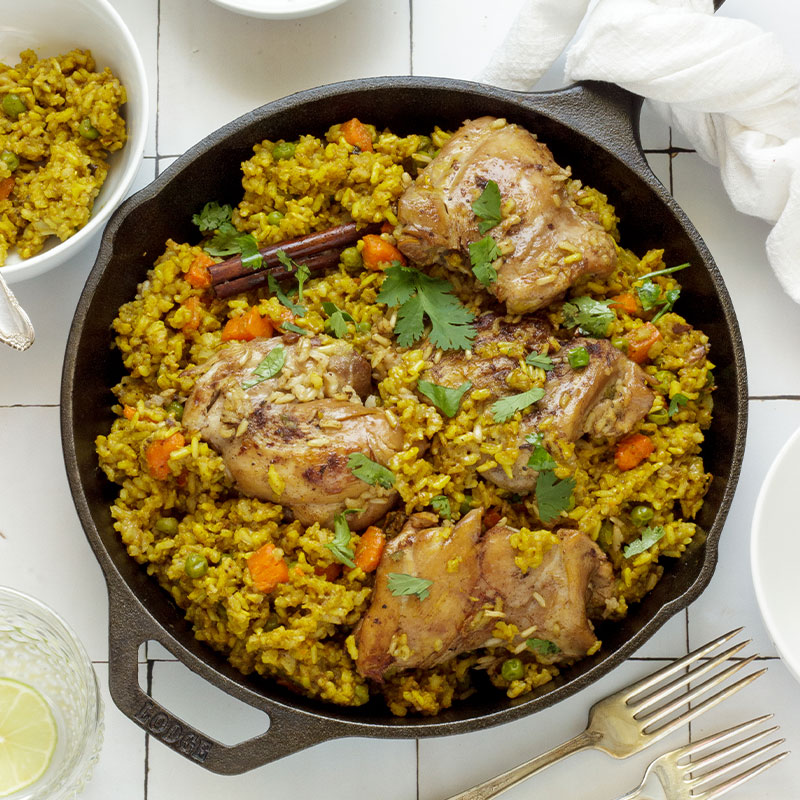 Easy Chicken Biryani
Looking for a one-pan meal that brings together fragrant spices, bright colors, and delicious flavors in just an hour? Look no further than our Easy Chicken Biryani!

This recipe stars U.S.-grown whole grain (brown) basmati rice and comes to us from our friend Anne Danahy RD of Craving Something Healthy.
Servings

4

Prep Time

30 min

Cook Time

1 hr

Total Time

1 hr 30 min
Ingredients
1¼ cups brown basmati rice
1 medium onion sliced thin

1 medium jalapeno pepper minced

2 tablespoons olive oil

4 boneless, skinless chicken thighs (about 1¼ pounds)

salt and pepper

1 teaspoon minced ginger or 1/2 teaspoon powdered ginger

4 cloves garlic minced

1½ teaspoons garam masala

1/2 teaspoon turmeric

2½ cups reduced sodium chicken stock

1 cinnamon stick

2 medium carrots chopped

1 cup frozen peas
1/4 cup cilantro minced
Yogurt Sauce (optional)

1 cup plain Greek yogurt nonfat or low fat

1 clove garlic minced

1 tablespoon fresh cilantro minced

1 tablespoon fresh mint minced
Directions
In a large saute pan with a tight-fitting lid, saute the onions and jalapeno in the olive oil over medium-high heat for about 5 minutes or until the onions start to turn golden.

Pat the chicken thighs dry with a paper towel and season both sides with salt and pepper.

Push the onions and jalapeno off to the sides of the pan and place the chicken pieces in the middle. Let them cook for about 3 minutes per side to brown. Don't flip them until they lift easily.

When the chicken pieces are lightly browned, add the ginger, garlic, and garam masala to the pan. Stir until the spices are fragrant, about 30 seconds.

Add the rice and chicken stock. Stir to submerge the rice in the stock. Add the cinnamon stick and carrots, and bring the mixture to a boil. Reduce the heat to low and cover the pan.

Let the chicken and rice simmer for 30 minutes. Check it periodically to make sure it's simmering (slow boil) slowly, and stir it so the rice cooks evenly.

Add the peas after 30 minutes. Cover, and continue to cook for another 20-30 minutes or until the rice is tender. If it seems too dry, add more chicken stock or some water.

When the rice is tender, remove the pan from the heat. Add extra salt to taste and sprinkle with fresh cilantro.
Serve immediately with yogurt sauce if desired.
Yogurt Sauce

Combine the yogurt, garlic, and herbs. Season with a pinch of salt to taste. Set aside in the refrigerator until ready to use.
Nutrition Facts
Calories

534

Total Fat

14g

Saturated Fat

3g

Trans Fat

1g

Cholesterol

110mg

Sodium

450mg

Carbohydrates

65g

Dietary Fiber

5g

Sugar

7g

Protein

37g