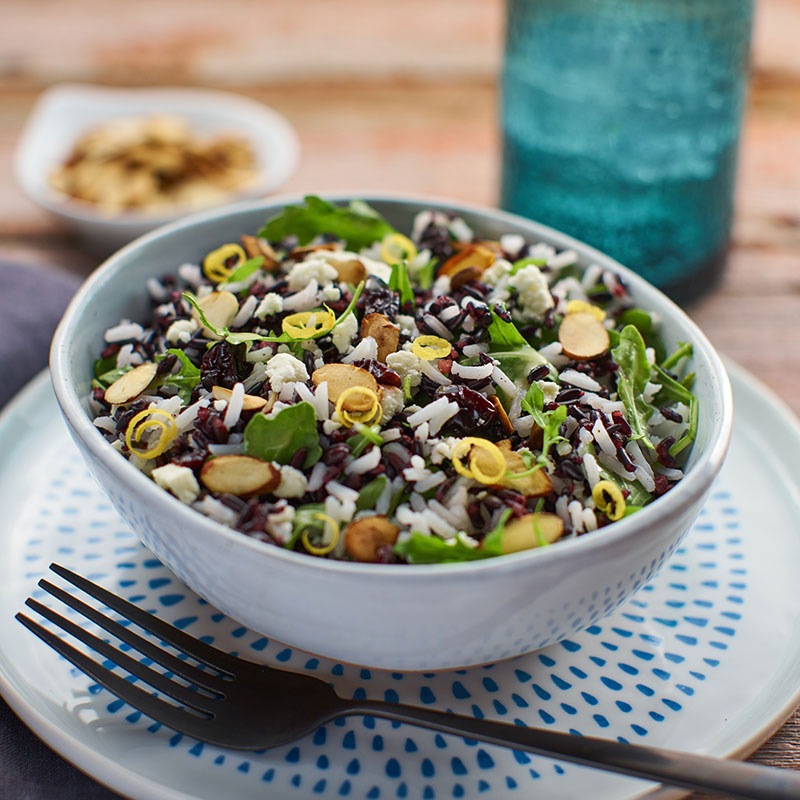 Ingredients
Rice & Arugula Salad:
½ cup U.S.-grown black rice, cooked
1 cup U.S.-grown basmati, cooked
4 cups baby arugula, washed
¼ cup basil, chopped
½ cup almond slices, toasted
3 tablespoons sour cherries, dried and chopped
⅓ cup Feta cheese, crumbled

1 teaspoon lemon zest curls
Lemon Dressing:

2 tablespoons lemon juice

1 teaspoon Dijon mustard

1 teaspoon maple Syrup

1 garlic clove

½ teaspoon salt, kosher

Pinch black pepper, ground

¼ cup olive oil
Directions
Cook black rice and basmati rice according to package directions, cool and reserve for later use.

Combine all lemon dressing ingredients except oil in blender. With blender running, drizzle in oil to emulsify. Set dressing aside.

Combine remaining salad ingredients in large mixing bowl. Add lemon dressing to preference.

Garnish with fresh lemon zest curls.