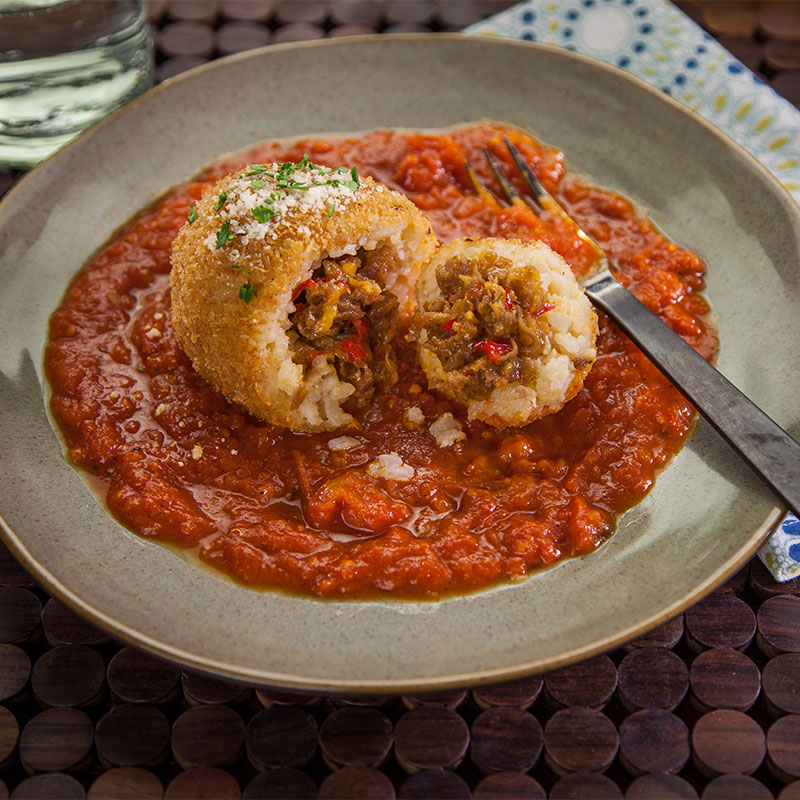 Crispy Rice Cherry Bomb (For 24)
Servings

24

Serving Size

1 cherry bomb; 1 cup of marinara
Ingredients
3 cups cherry peppers, drained, chopped

6 cups philly beef, cooked, chopped

6 cups cheddar cheese, shredded

3 quarts risotto

6 quarts panko bread crumbs

6 quarts marinara sauce

1½ cups parmesan, grated

½ cup parsley, stemmed, chopped

Directions
To make filling:

In a 2-quart metalwork bowl; combine cherry peppers, Philly Beef, and cheddar cheese. Mix until thoroughly combined.

To make 1 cherry bomb:

Flatten ½ cup risotto into a disc shape; place ¼ cup cheese mixture in center of disc and form a ball around the filling.


Roll cherry bomb in panko bread crumbs, and cook in a deep fryer set to 350°F for 3 to 5 minutes or until golden. Remove from oil and transfer to a sheet tray lined with parchment paper.


Bake at 350°F for 8 to 10 minutes or until cherry bomb reaches an internal temperature of 165°F.

To make 1 portion:

In a heated bowl, pour 1 cup heated marinara sauce over 1 cherry bomb.


Top with 1 tablespoon Parmesan and 1 teaspoon parsley.