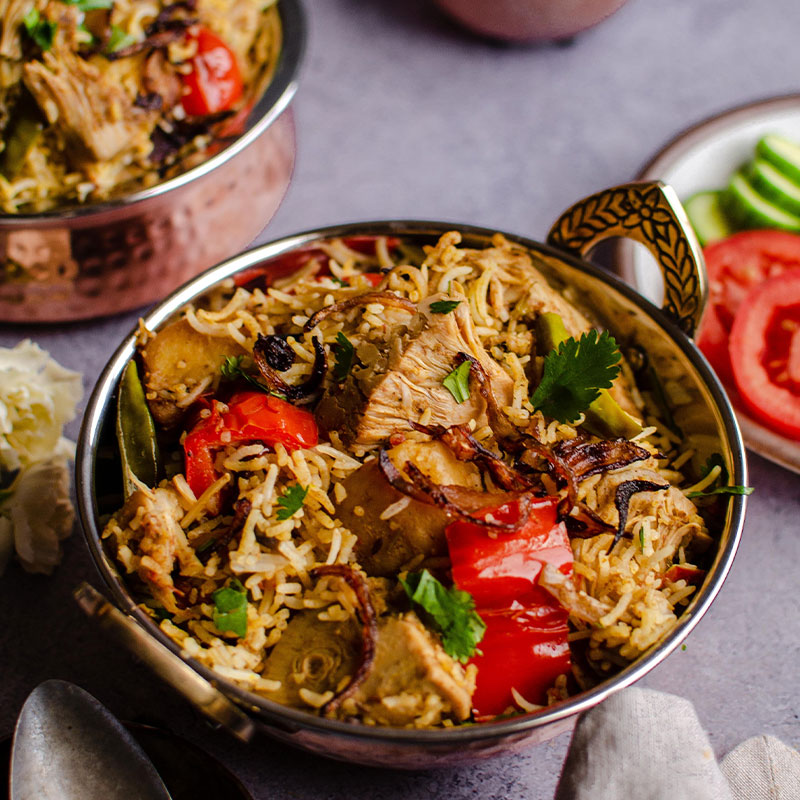 Jackfruit Biryani
This classic South Asian one-pot recipe brings together big flavors and textures with layers of saffron-infused basmati rice mixed with special spices and herbs, jackfruit, potatoes, and bell pepper.

This tasty plant-based meal stars U.S.-grown basmati rice and comes to us from our friend Anisha of @upbeetanisha in partnership with USA Rice.
Servings

6

Prep Time

45 min

Cook Time

50 min

Total Time

1 hr 35 min
Ingredients
Rice

2 cups basmati rice

2 teaspoons salt

2 bay leaves

2 inch cinnamon stick

4-5 black cloves

1 black cardamom

2 green cardamoms

5-6 black peppercorns

Vegetables

⅓ cup + 1 tablespoon avocado oil, divided (or any neutral oil)

5 white potatoes, quartered

1 red bell pepper, cut into 1-inch pieces

1 500g can of jackfruit

Biryani

6-8 strands of saffron

3 tablespoons plant-based milk

3 tablespoons avocado oil (or any neutral oil)

1 medium onion, thinly sliced

2 tablespoons ginger-paste (~ 2 inches ginger, 6 garlic cloves)

3 green chilis, whole

3 medium tomatoes, chopped

2 teaspoons ground coriander

1 teaspoon ground cumin

½ teaspoon ground turmeric

1 teaspoon garam masala

1 teaspoon red chili powder

2 tablespoon biryani masala (or 1 teaspoon ground coriander and 1 teaspoon
ground cumin)

¼ cup plant-based yogurt

½ cup herbs (mint and/or cilantro)

salt

Fried Onions

1 red onion, thinly sliced

¼ cup avocado oil (or any neutral oil)
Directions
Soak 6-8 strands of saffron in 3 tablespoons plant-based milk. Drain the cans of jackfruit and rinse the jackfruit in water. Squeeze out excess water from the jackfruit. Set aside while you prep ingredients.

Boil rice. Fill the pot you will boil rice in with plenty of water that is approximately three quarters the height of the pot. Bring the water to a boil. When the water is almost boiling, add the whole spices. When it is clearly bubbling, add 2 teaspoons salt and all the rice. Let it simmer uncovered on high for about 10-12 minutes, but begin to check it after about 8 minutes. You should cook it until it is 3/4 cooked, so it is still a little firm. Drain the water and set the rice aside.

Shallow fry the potatoes and bell peppers. Add ⅓ cup avocado oil to a large saucepan or Dutch oven over medium heat, preferably the same dish you will use to cook the biryani. Fry the potatoes until they are golden-brown. Set the potatoes aside on a paper towel, leaving the oil in the saucepan. Fry the red bell peppers in the remaining oil until they are soft. Set the bell peppers on a paper towel.

Pan fry jackfruit. If there is still oil remaining in the saucepan, add the jackfruit. If not, add 1 tablespoon oil first. Pan fry each jackfruit piece for 3-4 minutes per side. Each side should look browned and crisp when done. Take the jackfruit out of the pan and place on a paper towel.

Cook the gravy. Let 3 tablespoons avocado oil heat in the same large saucepan or Dutch oven over medium heat. Cook onions until translucent, about 4-5 minutes. Add ginger-garlic paste and green chilis. Cook for 2 minutes. Add tomatoes. Cover and cook on medium-high for 4-5 minutes, until the tomato juices evaporate and a gravy forms. Add salt to accelerate the cooking a little bit.

Add all spices: coriander, cumin, turmeric, garam masala, red chili powder, and biryani masala, if using. Combine with the gravy for 2 minutes.

Add yogurt and let it incorporate in the gravy for 2-3 minutes. Then add the pan-fried jackfruit, potatoes, red bell peppers, and half of the herbs. Combine it well with the gravy. Cover and cook over medium for 10 minutes. Keep ½ cup of water near you. Occasionally uncover, stir, and add some water to make sure it does not get dry.

Add the rest of the herbs, but do not mix them in. Add the rice on top of the jackfruit layer. Swirl the saffron milk over the rice. Do NOT mix the layers yet. Cover, reduce heat to low, and cook for 10 minutes.

Slowly combine the layers, cover again, and continue cooking on low for 10-12 minutes. After that, turn off the heat and let the biryani rest until serving.

Fry the onions. Fry the onions in enough oil that the onions are submerged in the oil. Check frequently to make sure they do not burn. Take them out and place them on a plate lined with a paper towel.

Before serving, garnish with crispy onions and a ton of cilantro or mint! Optionally, serve with raita (yogurt with cumin and cilantro) on the side.