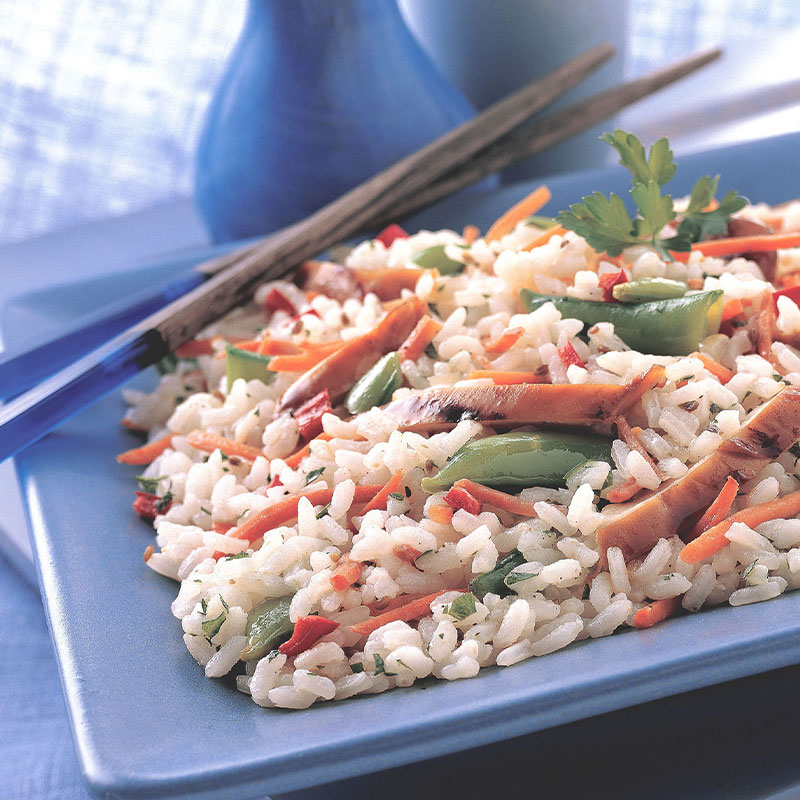 Tokyo Rice
Rice with crunchy carrots, sugar snap peas, parsley, cilantro, scallion and jalapeño is tossed with a rice wine vinegar, honey, garlic, sesame and anise-based sauce before serving.
Serving Size

1 cup

Prep Time

30 min

Cook Time

20 min

Total Time

50 min
Ingredients
1 quart water

3 cups chicken stock

3 large garlic

3 cups medium grain rice

1 quart carrot

1 quart sugar snap peas

¼ cup each fresh parsley and cilantro

3 tablespoons yellow onion

2 tablespoons red jalapeños

1 cup rice wine vinegar

½ cup toasted sesame oil

¼ cup honey or granulated sugar

3 tablespoons toasted anise or fennel seeds

1 tablespoon salt

1 tablespoon black pepper

¼ cup sesame seeds
Directions
In large pot, bring stock and water to a boil over high heat; add garlic and boil 1 minute. Stir in rice and return to a boil; cover, reduce heat to a low simmer and cook 20 minutes, or until rice is tender and liquid is absorbed. Remove from heat and keep hot.

In large bowl, combine vegetables and herbs along with jalapeño; toss to mix well.

In small bowl, whisk together vinegar, honey, oil, garlic, anise, salt and pepper; mix well. Add vegetables to hot rice and gently toss to blend. Stir in vinegar-honey dressing and toss to coat completely. Add sesame seeds and mix well. Adjust seasonings. To Serve: For each serving, line salad plate or bowl with lettuce leaves and scoop 1 cup rice on top of lettuce. Top with teriyaki chicken, pork, lamb or fish.