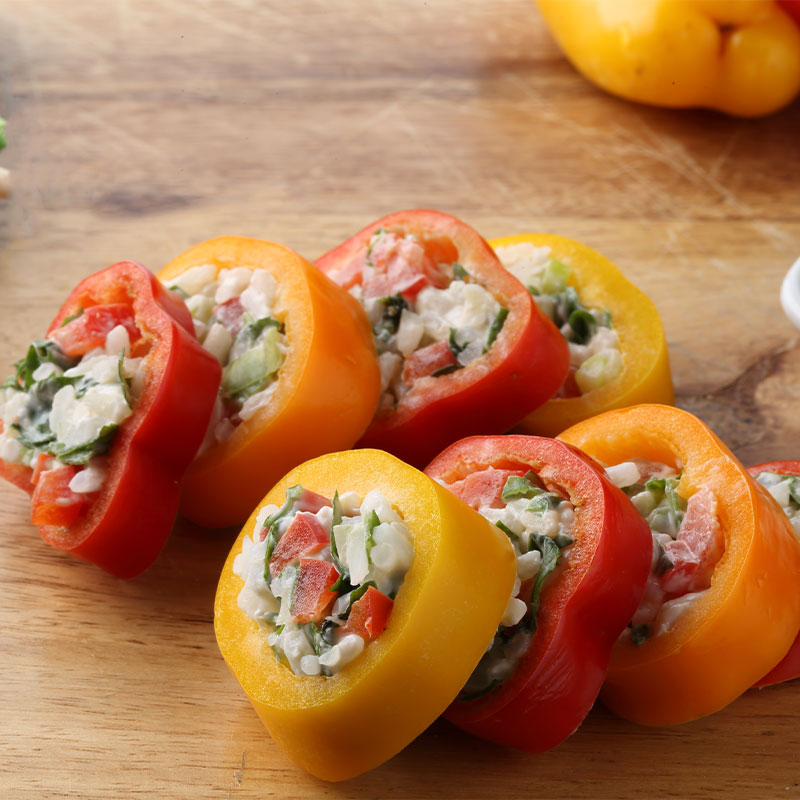 Sweet Pepper "Sushi" Rice Rounds
Our kid-friendly "sushi" rounds allow little ones to be completely hands-on in creating a tasty and colorful snack. Don't forget the sauce!

This recipe is part of "The Kids' Kitchen" series, a collection of approachable recipes that teach children the basics of cooking through the preparation, assembly, and plating of each dish (adults are asked to handle any oven or stovetop instructions).
Servings

4

Serving Size

8 rounds

Prep Time

30 min

Total Time

30 min
Ingredients
"Sushi" Rounds

1 cup cooked white rice

3 ounces reduced-fat or regular cream cheese, softened*

½ cup finely chopped red bell pepper

½ cup finely chopped green onions

½ cup chopped fresh cilantro

⅛ teaspoon salt
16 petite sweet peppers (about 1 pound total)
Dipping Sauce

¼ cup light or regular soy sauce

2 teaspoons fresh lime juice

½ teaspoon dark sesame oil
Directions
Combine the rice, cream cheese, chopped bell pepper, onions, cilantro, and salt in a medium bowl. Stir until well blended.

Cut the stems off each petite pepper and remove seeds by using a small measuring spoon or knife, being careful to leave the peppers whole.

Fill each pepper with rice mixture using a small spoon or clean hands. Pack firmly. (May want to wipe the outside of each pepper to remove any excess cheese mixture with a paper towel.)

Slice stuffed peppers into ¼ inch thick rounds, discarding ends of peppers, and place on a plate.

Combine the dipping sauce ingredients in a small bowl and whisk until well blended. Serve with pepper rounds. May serve with chopsticks or small forks.

Makes about 32 rounds total.
Recipe Notes
Place cream cheese in a small microwave-safe bowl and heat on high setting for 10-15 seconds or until very soft.
For an entrée, arrange 8 oz. cooked peeled shrimp on platter with rounds.
Nutrition Facts
Serving

8 rounds

Calories

160

Total Fat

4.5g

Saturated Fat

2.5g

Trans Fat

0g

Cholesterol

15mg

Sodium

600mg

Carbohydrates

25g

Dietary Fiber

3g

Sugar

8g

Protein

5g