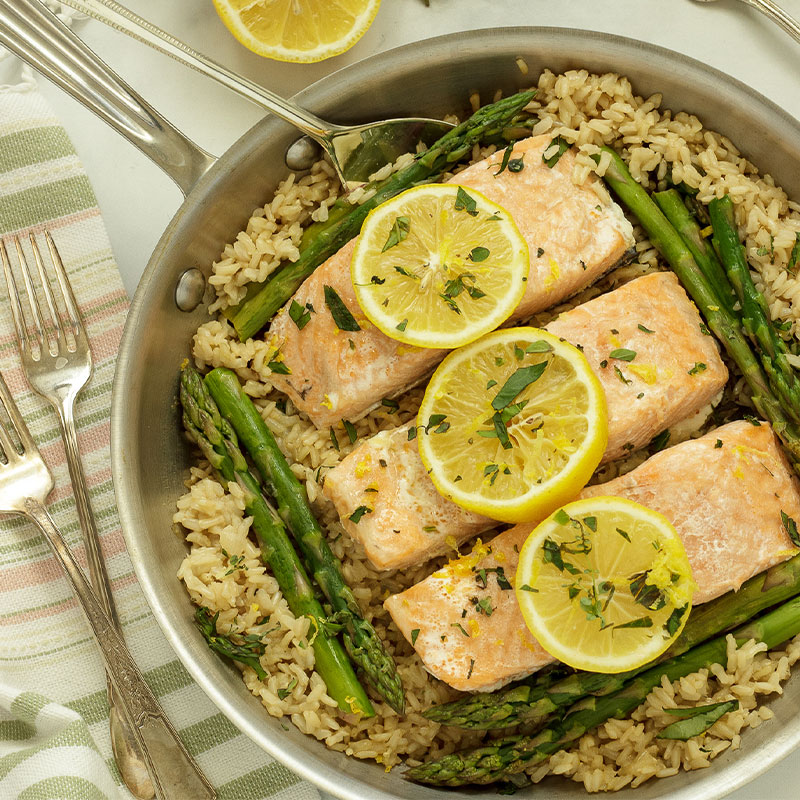 One-Pan Salmon with Lemon Rice & Yogurt Sauce
You're going to love this one-pan dish! It's easy enough for the perfect weeknight meal, but also special enough to serve when you're entertaining at home. The recipe combines strong nutrition with fresh flavors and makes cooking salmon a breeze!

This dish stars U.S.-grown brown long grain rice and comes to us from our friend Anne Danahy, RD of Craving Something Healthy in partnership with USA Rice.
Servings

4

Prep Time

10 min

Cook Time

50 min

Total Time

1 hr
Ingredients
1 tablespoon olive oil

1 large shallot minced. Reserve 1 tablespoon of the minced shallot for the yogurt herb sauce

1 cup long grain brown rice

2 cups low sodium chicken stock

2 medium lemons zested and juiced (divided), reserve and slice one juiced lemon to place under the salmon. Reserve 2 tablespoons of juice and 1 tablespoon zest for the yogurt herb sauce.

1 pound salmon fillets

1/2-pound asparagus tough ends snapped off
1/2 cup fresh minced herbs (divided) any combination of parsley, dill, thyme, oregano, basil. Reserve 1/4 cup of minced herbs for the yogurt herb sauce.
sea salt to taste

Yogurt Herb Sauce

1 tablespoon minced shallot reserved from above

1 tablespoon lemon zest reserved from above

2 tablespoons fresh lemon juice reserved from above

1/2 cup plain Greek yogurt

1/4 cup minced herbs reserved from above

1/8 teaspoon sea salt or to taste
Directions
In a large saute pan with a tight-fitting lid, heat the olive oil over medium-high heat. Add the minced shallot and saute for about 4 minutes or until the shallot start to turn golden. Add the rice, and let it toast for another 2-3 minutes until it starts to turn golden.

Add the chicken stock and ⅓ cup of lemon juice to the rice mixture and stir to combine.
Cover, reduce the heat to low, and let the rice cook at a slow simmer. Set a timer for 30 minutes.

While the rice is cooking, prep your salmon by seasoning it with sea salt and ground pepper. Snap the tough ends off the asparagus. Slice the juiced lemon to place under the salmon fillets as they cook. Mince your herbs.

When the rice has cooked for 30 minutes, place a few lemon slices over the rice and add the salmon on top of the lemon. Cover and let cook for 10 more minutes.

Next, add the asparagus pieces, nestling them into the rice. If the rice seems dry, add an extra ¼ cup of chicken stock or water. Cover and let cook for 5-8 more minutes.

Check the pan to see if the vegetables are tender and the salmon is opaque. Let if cook a few more minutes if needed. You can also add more liquid to the rice if needed.
Before serving, remove the salmon and vegetables. Add ¼ cup of the minced herbs and a generous tablespoon of lemon zest to the rice. Taste and season with salt as desired. Return the salmon and vegetables to the pan to serve.
Yogurt Herb Sauce

In a blender, combine the reserved tablespoon of minced shallot, the lemon zest, lemon juice, yogurt, and ¼ fresh herbs. Blend until smooth.

To serve, drizzle some of the yogurt sauce over the salmon, rice, and asparagus.
Recipe Notes
If desired, substitute broccoli florets or baby spinach for the asparagus. If using spinach, add it just before removing the pan from the heat.
Nutrition Facts
Calories

437kcal

Total Fat

13g

Saturated Fat

2g

Trans Fat

1g

Cholesterol

64mg

Sodium

180mg

Carbohydrates

48g

Dietary Fiber

5g

Sugar

5g

Protein

34g