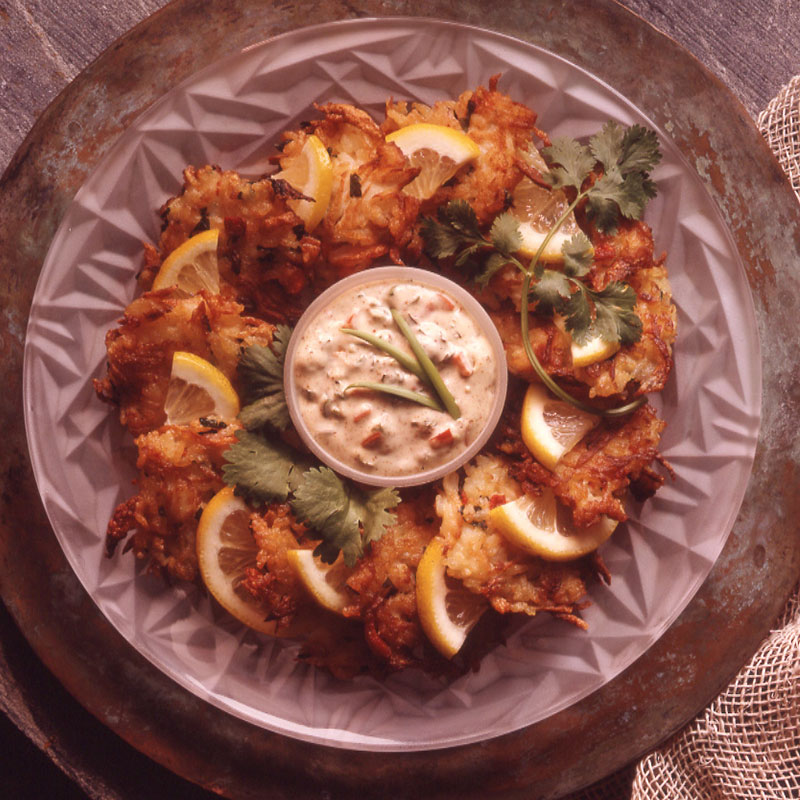 Servings

24 cakes

Serving Size

1 cake
Ingredients
1 egg
1 egg white
⅔ cup + 3 tablespoons reduced-calorie mayonnaise, divided
1 ½ teaspoons dry mustard
2 (6-ounce) packages frozen crab meat, thawed and drained
2 cups cooked rice
1 (2-ounce) jar pimiento, minced, drained
6 tablespoons cilantro or parsley, minced, divided
vegetable cooking spray
2 to 3 tablespoons olive oil, divided
3 tablespoons green onion, minced
3 tablespoons red or green pepper, minced
2 tablespoons creole mustard
Directions
Combine egg, egg white, 3 tablespoons mayonnaise and mustard in medium bowl; whisk until blended. Stir in crab meat, rice, pimiento and cilantro. Carefully form 2 tablespoons mixture into 2-1/2-inch patty; repeat with remaining mixture, layering between sheets of wax paper. Refrigerate at least 30 minutes and up to 1 hour before cooking.
Combine 2/3 cup mayonnaise, onion, pepper, cilantro, and mustard; mix well. Cover and chill 2 hours. Makes 1 cup sauce.
Heat 1 tablespoon olive oil in large, heavy skillet that has been coated with cooking spray over medium-high heat. Add crab cakes in batches; cook about 2-1/2 to 3 minutes on each side or until browned. Add more olive oil to skillet as necessary. Drain well on paper towels.
Serve hot or at room temperature with Mustard Creole Sauce or creole mustard.
Nutrition Facts
Serving

1 cake

Calories

72

Total Fat

4g

Cholesterol

24mg

Sodium

142mg

Carbohydrates

5g

Protein

4g