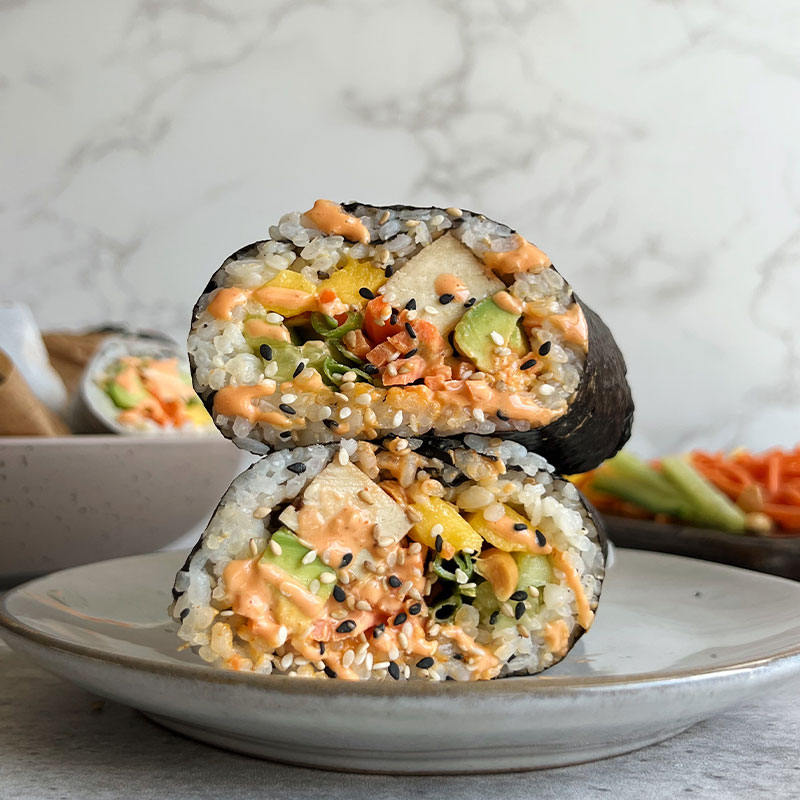 Veggie Sushi Burritos
These tofu & veggie sushi burritos essentially are extra-large sushi rolls with a plant-based twist but easier to make and roll. You will have as much fun making them as you do eating them!

This recipe features U.S.-grown sushi rice and comes to us from our friend Gal of @somethingnutritious.
Servings

3

Serving Size

1 burrito

Prep Time

25 min

Cook Time

35 min

Total Time

1 hr
Ingredients
Sushi Rice
1 cup U.S-grown sushi rice
2 cups water
1½ tablespoon rice vinegar
1 tablespoon white sugar
1 teaspoon salt
1 tablespoon toasted sesame seeds
Baked Tofu
1 block extra firm tofu
⅓ cup coconut aminos
1 teaspoon sriracha
½ teaspoon salt
Fillings
3 slices Nori sheets
1 avocado, sliced
2 persian cucumbers, sliced
1½ cups shredded carrots
2 scallions, thinly slices
⅓ cup toasted peanuts
1 mango, sliced
Spicy Mayo
½ cup mayo, use vegan if necessary
⅓ cup sriracha
1 teaspoon sesame oil
Directions
Preheat the oven to 400 F.
Pat the tofu dry and slice it into strips. Marinate it in the coconut aminos, salt and sriracha and layer it in a baking dish. Bake it for about 35-40 minutes, flipping halfway.
Rinse your sushi rice in a colander until the water runs clear. Add it to a pot with the 2 cups of water, cover it and bring it to a boil. Once boiling, reduce heat and let it simmer for about 15-18 minutes until all of the water is absorbed. Let it sit for 10 minutes off of the flame and fluff it with a fork. Season with the rice vinegar, salt, sugar and sesame seeds.
To prepare the burritos, spread about ½ cup of the rice mixture onto a nori sheet. Use wet hands or a rubber spatula to spread it around evenly.
Prepare the spicy mayo by whisking the ingredients together until smooth.
To make the burritos, layer the tofu and all of the fillings in a row onto the rice, leaving about ½ inch from the bottom. Take the bottom of the nori sheet and roll everything tightly into a large roll. Wrap each roll in parchment paper like a burrito, then slice in half. Repeat with remaining rice and fillings.
Serve with spicy mayo and low-sodium soy sauce to dip.
Recipe Notes
To save prep time, you can purchase pre-baked, marinated tofu
You'll be left with a few extra tofu pieces, but they'll stay fresh in the fridge for up to 5 days