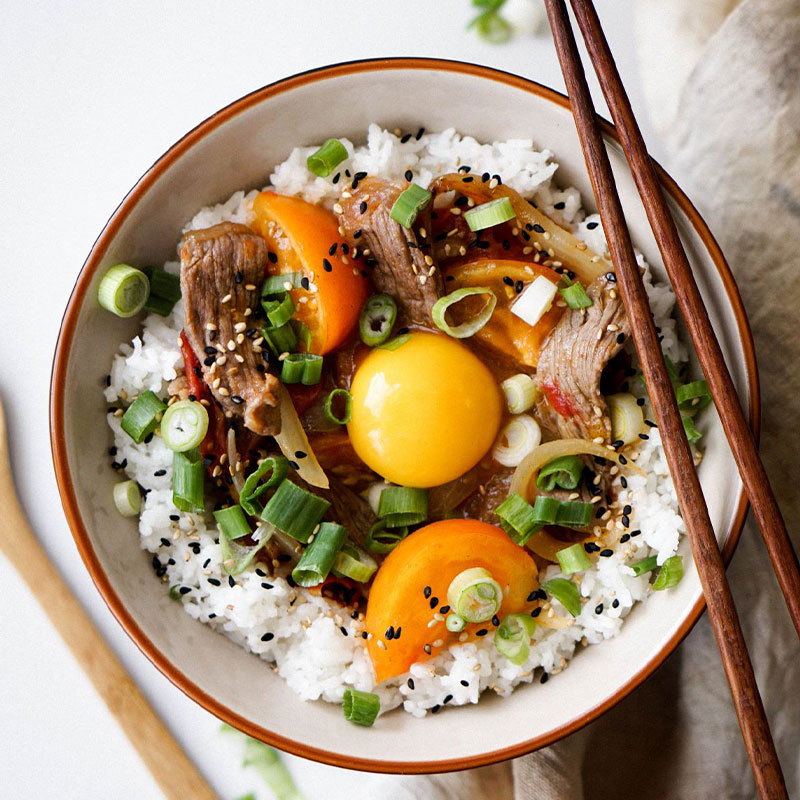 Stir Fried Tomato and Beef Rice Bowl
This easy-to-make Stir Fried Tomato and Beef Rice Bowl recipe features U.S.-grown Jasmine and comes to us from our friend @EatChoFood in partnership with USA Rice and The Feedfeed.
Servings

2-3

Prep Time

20 min

Cook Time

30 min

Total Time

50 min
Ingredients
1 cup jasmine rice

½ white onion, sliced

1 pound tomatoes, chopped into large pieces

2 scallion stalks, chopped

½ cup canola oil

½ teaspoon salt

¼ teaspoon white pepper

2 tablespoons soy sauce

2-3 egg yolks

1 pound new york strip steak or ribeye
Directions
Place steak in the freezer for 30 minutes to make slicing easier.

Cook rice with 1½ cup water in a rice cooker. Alternatively, cook rice in a pot by bringing the pot of rice to a simmer, cover with a lid, and cook for 20 minutes.

While the rice is cooking, take the steak out of the freezer and cut into thin strips against the grain. Set meat aside.

Heat canola oil in a wok or a large saute pan over medium high heat. Add onions and cook, stirring occasionally, for 3-4 minutes. Add in the steak and cook for another 3-4 minutes, until the meat is half way cooked through. Add the tomatoes and season with salt, white pepper, and soy sauce. Continue to cook for another 5 minutes, stirring often, until the tomatoes have broken down and have a jammy consistency. Finish my adding the chopped scallions.

Fluff the cooked rice and place into serving bowls. Top the rice with the stir fried tomato and beef mixture. Place an egg yolk in the center of each bowl. Mix everything together and enjoy!