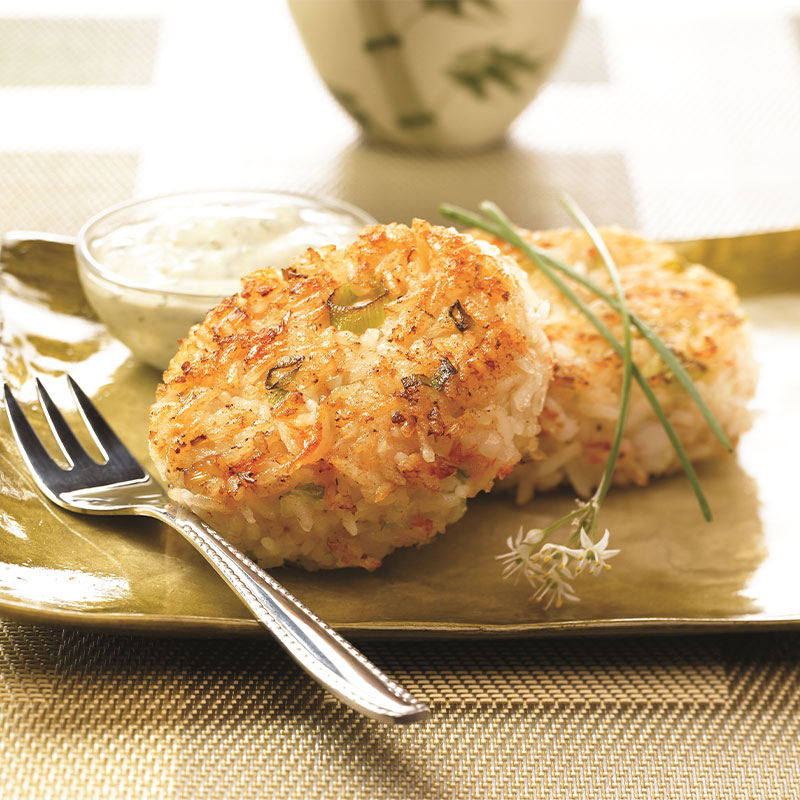 Shrimp and Rice Patties with Creamy Cilantro Sauce
"Rice to the Rescue!" Recipe Contest Winner - Daljeet Singh
Servings

6

Serving Size

2 patties
Ingredients
1 cup cilantro leaves, chopped

1 (16-ounce) container light sour cream

2 jalapeno peppers, seeded

1½ teaspoons salt, divided

3 cups cooked medium or long grain rice

1 pound medium shrimp, peeled and deveined

1 cup green onions, chopped

½ teaspoon ground black pepper

2 tablespoons olive oil

lime wedges, for garnish
Directions
Combine cilantro, sour cream, jalapenos and ½ teaspoon salt in food processor and puree until smooth. Spoon into bowl; refrigerate.

Combine rice, shrimp, green onions, remaining salt and pepper in food processor; pulse until texture is coarse. Shape into 12 patties*, about 3 inches in diameter.

Heat oil in large nonstick skillet over medium heat. Add 6 patties and cook 2 to 3 minutes on each side or until lightly golden; remove. Cook remaining patties, using additional oil, if needed.

Serve with sauce and lime wedges, if desired.
Recipe Notes
May be shaped into 24 (2-inch diameter patties) for appetizers.
Nutrition Facts
Serving

2 patties

Calories

320

Total Fat

12g

Cholesterol

140mg

Sodium

780mg

Carbohydrates

35g

Dietary Fiber

3g

Protein

20g