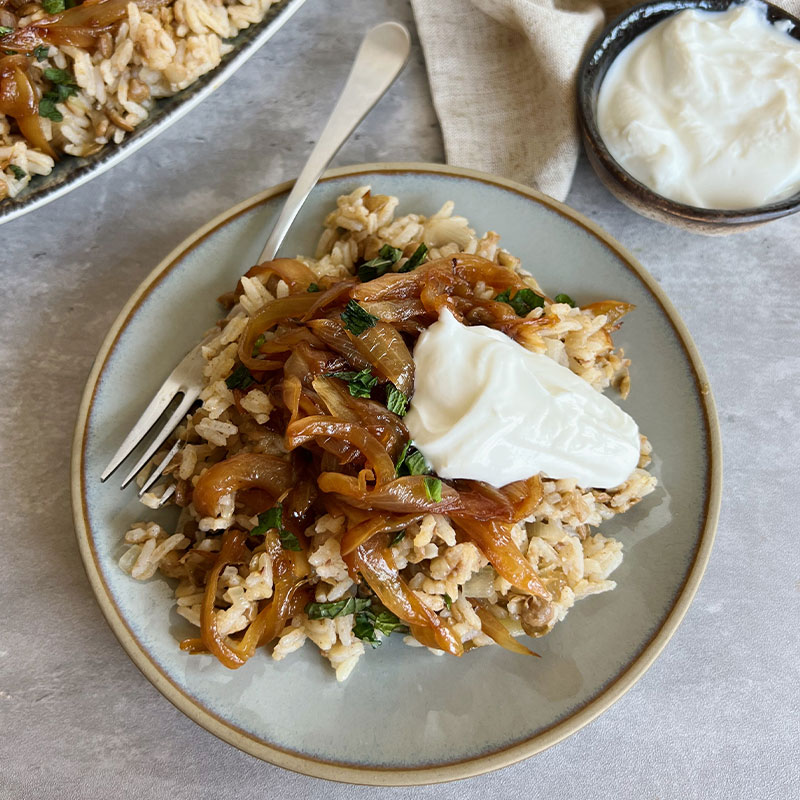 Mujadara
Mujadara is a classic Lebanese rice and lentils recipe that makes for a simple and flavorful side dish that works for any meal. It's nutrient dense, great for meal prep, and affordable-what's not to like!

This recipe stars U.S.-grown brown rice and comes to us from our friend Gal of Something Nutritious in partnership with USA Rice.
Servings

8

Prep Time

10 min

Cook Time

45 min

Total Time

55 min
Ingredients
1 cup jasmine rice

1 cup brown or green lentils

3 yellow onions

2-4 tablespoons olive oil

1 teaspoon salt, plus more to taste

2 teaspoons cumin

1 teaspoon cinnamon

toppings: fresh mint, yogurt
Directions
To a large pot, add the lentils with one tablespoon of olive oil, the 2 teaspoons cumin, 1 teaspoon of cinnamon and salt and toast on medium heat for 1-2 minutes.

Add 3 cups of water to the pot, cover with a lid and bring it to a boil. Once boiling, reduce the heat to low and let it simmer for about 15-20 minutes. There should still be some liquid, and the lentils should be parboiled.

After 20 minutes, add the rice into the same pot with the lentils and add another 2 cups of water. Bring the water to a boil again, then once boiling reduce the heat to low and let the rice and lentils simmer for about 25 minutes, or until all of the water is absorbed.

Once ready, set the pot aside and let it sit for 10 minutes before fluffing with a fork. Adjust the salt to taste.

While that boils, dice one of the onions, and slice the other two into strips.

Heat a large pan with 1 tablespoon of olive oil and saute the diced onion for 6-7 minutes on medium heat until they brown. Set them aside to mix into the rice and lentils.

Once you remove the diced onion, add another 2 tablespoon of olive oil to the same pan and add in your sliced onions. Cook them on medium heat for about 10-12 minutes, stirring occasionally, until they start to brown and become caramelized. You can cook them on a higher heat at the end for another 1-2 minutes to let them crisp up. Season with ¼ teaspoon of salt.

Once the rice and lentils are ready, mix in the diced onions then transfer the mixture to a serving plate.

Top it with the caramelized onions and serve with fresh mint and yogurt!
Recipe Notes
Leftovers can be stored in the fridge for up to 5 days.