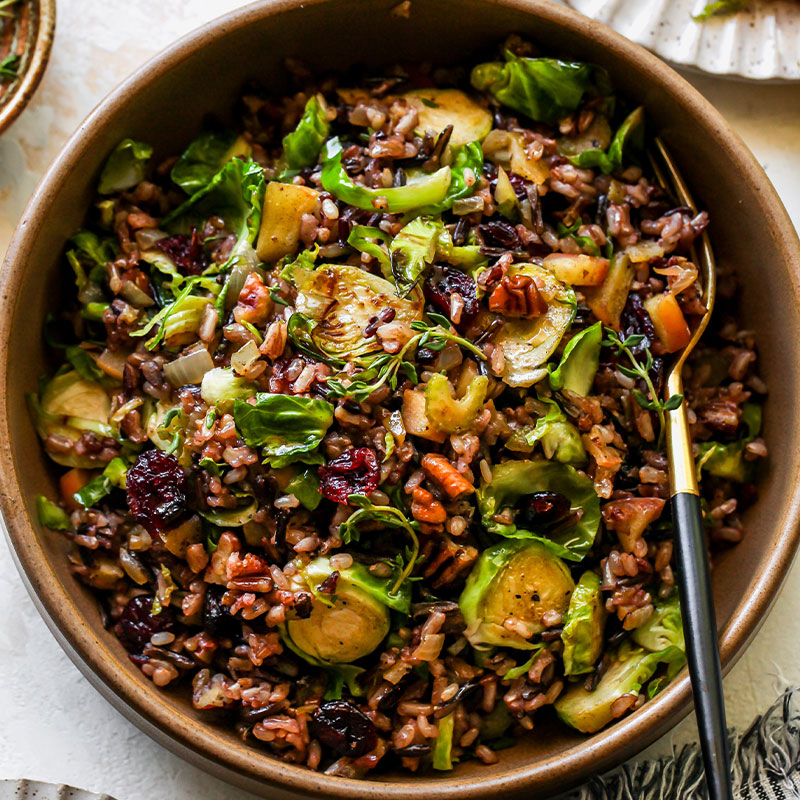 Wild Rice Pilaf
Our Wild Rice Pilaf brings together brussels sprouts, apples, toasted pecan, dried cranberries, and wild rice to create a holiday-worthy side that is easy enough for weeknight cooking, but sure to impress!

This recipe stars California-grown wild rice and was developed by our friend Jamie Vespa RD of Dishing Out Health and in partnership with the California Wild Rice Advisory Board.
Servings

6

Serving Size

2/3 cup

Prep Time

30 min

Cook Time

1 hr

Total Time

1 hr 30 min
Ingredients
1¼ cups dry California-grown wild rice blend

2 cups lower-sodium vegetable broth (sub chicken or turkey broth, or water)

3/4 teaspoon salt, divided

1/2 cup pecans, roughly chopped

2 tablespoons olive oil

2 tablespoons butter

1 cup finely chopped yellow onion

3/4 cup finely chopped celery

1 small apple, finely chopped (no need to peel)

1½ teaspoon poultry seasoning

8-10 ounces brussels sprouts, trimmed and shaved or thinly sliced (about 3 cups total)

1/3 cup dried cranberries

Optional for garnish: fresh thyme leaves
Directions
Combine rice, broth (or water), and 1/4 teaspoon salt in a medium saucepan. Bring mixture to a boil, cover, reduce heat to low, and gently simmer for 50 to 60 minutes, or until rice is tender.

Remove lid, stir, and place the lid back on to steam rice for 10 minutes (off burner).

Meanwhile, place pecans in a large dry skillet over medium heat. Toast pecans until they smell nutty and aromatic, watching closely so they don't burn, about 5 minutes. Transfer pecans to a bowl.

Return skillet to medium heat, and add olive oil and butter. Once melted, add onion, celery and apple; cook until softened, about 8 minutes. Stir in poultry seasoning and remaining 1/2 teaspoon salt.

Add Brussels sprouts and toss to combine. Continue cooking until Brussels are tender, about 6 to 7 more minutes. Stir in toasted pecans and cranberries; remove from heat.

Add cooked wild rice to skillet and toss to combine. Transfer pilaf to a serving platter and garnish with extra cranberries, pecans, and/or fresh thyme, if desired.

Recipe Notes
Make-Ahead: Slice and dice the onion, celery, and apple up to 2 days ahead. Store in an airtight container refrigerated. You can also slice or shred the Brussels sprouts up to 2 days ahead, and store separately.

Store: Transfer leftovers to an airtight container and refrigerate for up to 5 days.

Reheat: Heat pilaf in a skillet over medium heat, adding a splash of broth as needed to help rehydrate the grains, until warm.

Freeze: Let pilaf cool until close to room temperature. Place in a gallon-size, freezer-safe storage bag, and lay flat in the freezer for up to 3 months. Let thaw overnight in the refrigerator before following reheating instructions
Nutrition Facts
Serving

.66 cup

Calories

310kcal

Total Fat

11g

Saturated Fat

2.5g

Sodium

400mg

Carbohydrates

45g

Dietary Fiber

7g

Sugar

12g

Protein

9g