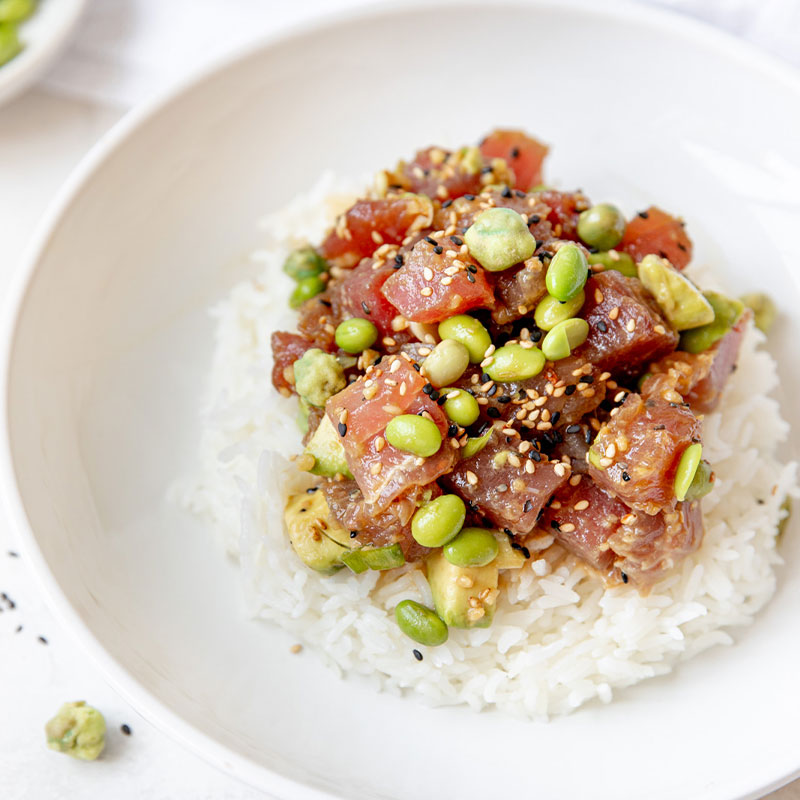 Ahi Tuna Poke Bowls
Both easy to make and customize, these Ahi Tuna Poke Bowls are the perfect nutritious weeknight meal.

This flavor-packed recipe features U.S.-grown long grain white rice and comes to us from our friend Tawnie of Krolls Korner in partnership with USA Rice.
Servings

4

Serving Size

1 bowl

Prep Time

15 min

Cook Time

15 min

Total Time

30 min
Ingredients
2 cups long grain white rice

1 lb. sushi-grade ahi tuna, cut into bite-size pieces

¼ cup green onions, thinly sliced

3 tablespoon soy sauce

1 tablespoon sesame oil

2 cloves garlic, minced

1 teaspoon ginger, minced

1 teaspoon rice vinegar

1 teaspoon toasted sesame seeds

1 teaspoon black sesame seeds

½ teaspoon red pepper chili flakes (optional)

salt, to taste

½ cup shelled edamame

1 avocado, cut into cubes

Directions
Cook the U.S.-grown Long grain rice: Follow the package directions or us this easy stovetop method: Combine 1 cup long grain rice with 2 cups water and a dash of salt in a small saucepan. Heat to boiling; stir once or twice. Reduce the heat; cover and simmer for 15 minutes or until most of the water is absorbed. Allow the pot to sit, undisturbed, for another 10 minutes. Fluff with fork.

Slice the ahi tuna into 1-inch cubes or small bite-size pieces and place in a large bowl.

Add the green onions, garlic, ginger, soy sauce, sesame oil, rice vinegar, red pepper chili flakes, salt, avocado, edamame, and sesame seeds to the ahi tuna. Stir to combine.

Add a few spoonfuls of rice to a bowl, top with the ahi tuna and then garnish with wasabi peas, green onions, more white and black sesame seeds and any of desired toppings.
Recipe Notes
Topping Ideas: wasabi peas, shredded carrots, cucumber, sriracha mayo, sliced radish, microgreens, fried shallots, cilantro, tomato, jalapeno, mango chunks, seaweed, pickled ginger, shredded purple cabbage, etc.
Be sure to add crunch! Fried shallots, carrot, cucumber, or wasabi peas are some of our favorite options.
Drizzle with a spicy sauce: try combining 2 tablespoons mayo or Greek yogurt with 1 tablespoon Sriracha and a squeeze of lemon to drizzle over the bowl prior to serving.