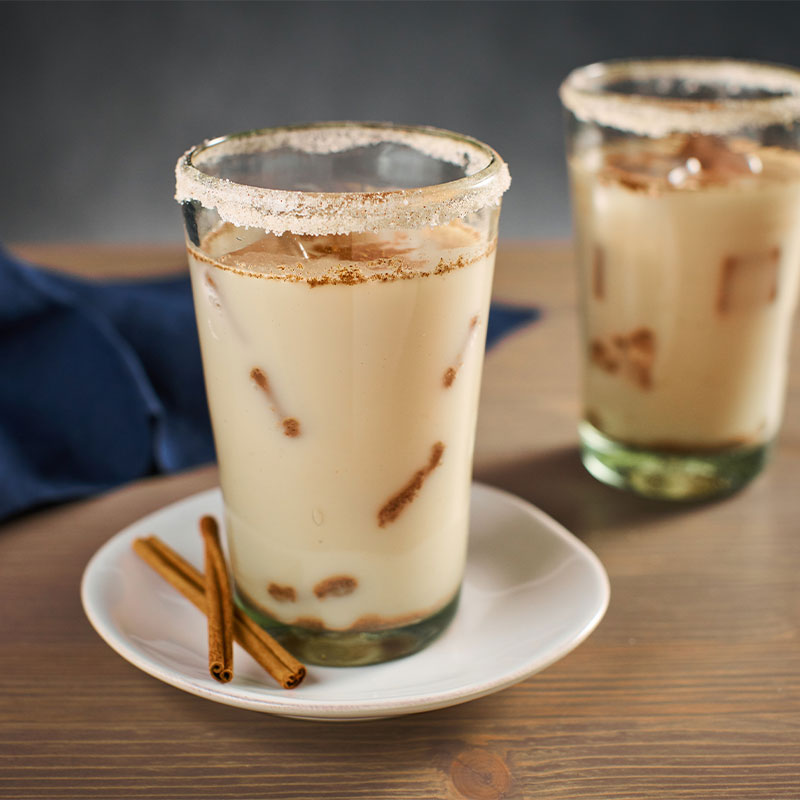 Horchata
Cool down with a delicious rice drink that is perfect for the hot weather months and easy to make. Horchata is a popular Latin American beverage that combines milk, U.S.-grown rice, vanilla, and cinnamon for the perfect balance of sweet, creamy, and refreshing!
Servings

6

Serving Size

1 glass

Total Time

8 hrs
Ingredients
1⅓ cups uncooked long-grain white rice

2 cinnamon sticks

4 cups water, divided

1½ cups milk

2 teaspoons vanilla extract

2 teaspoons ground cinnamon

⅓ – ½ cups granulated sugar, to taste
Directions
To a blender, add rice, 2 cups of water, and 2 cinnamon sticks.

Blend about for 2 minutes or until the rice and cinnamon sticks are roughly ground.
Add the remaining water and blend again.

Pour contents into a pitcher or container with a fitted lid and place on your countertop overnight (or for at least 8 hours).

Pour the rice mixture into a fine mesh strainer, into a pitcher. Discard the rice.

Stir in the milk, vanilla, cinnamon, and sugar (to your preference). Chill until ready to serve. Stir well before serving and serve over ice.
Recipe Notes
Break the cinnamon sticks in large pieces before you place in the bowl to soak. This will give more flavor from the inside of the cinnamon.

If you don't have cinnamon sticks, you can soak the rice with 1 tablespoon of cinnamon powder.
Nutrition Facts
Serving

1 Glass

Calories

191kcal

Total Fat

2g

Saturated Fat

1g

Cholesterol

6mg

Sodium

36mg

Carbohydrates

36g

Dietary Fiber

1g

Sugar

3g

Protein

4g