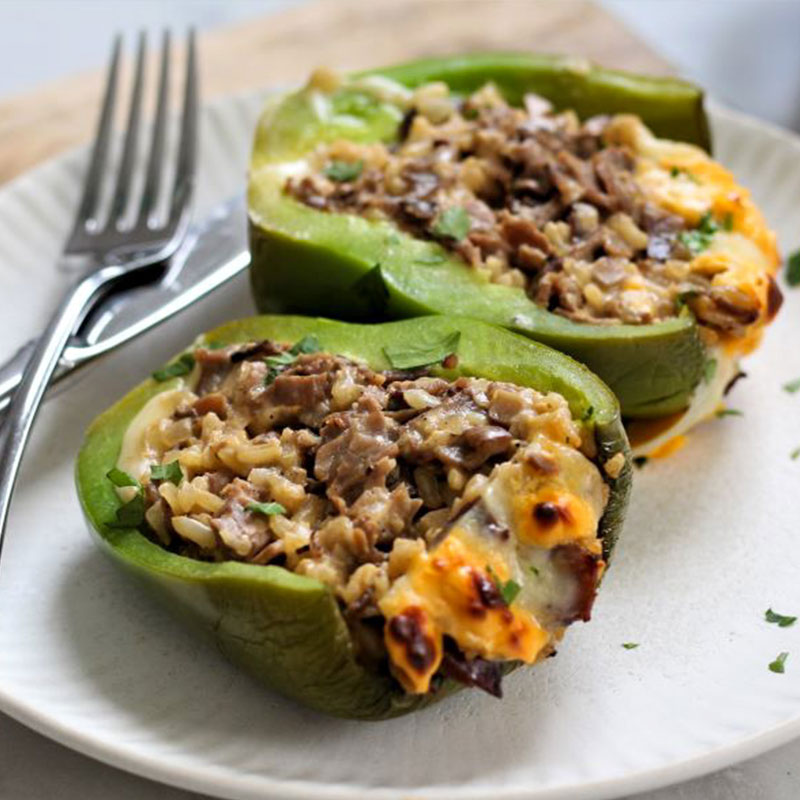 Philly Cheesesteak Stuffed Peppers
A tasty (and rice-filled) twist on a classic dish!

These Philly Cheesesteak Stuffed Peppers star U.S.-grown brown rice and comes to us from our friend Laura of @waystomyheart in partnership with TheFeedfeed.
Servings

5

Serving Size

1 pepper

Prep Time

15 min

Cook Time

20 min

Total Time

35 min
Ingredients
5 green bell peppers

½ tablespoon olive oil

1 small yellow onion, minced

2 cloves garlic, minced

¼ cup beef broth

1 cup mushrooms, chopped

1 pound deli-style shaved roast beef, chopped

2 tablespoons Worcestershire sauce

2 tablespoons cream cheese

6 slices American cheese, divided

½ teaspoon black pepper

1½ cups cooked U.S. grown brown rice

Kosher salt, to taste

7 slices provolone cheese, divided
Directions
Preheat oven to 400°.

Gently slice the tops off of each bell pepper, and remove the membrane and seeds. Place peppers into an oven-safe baking dish or sheet pan. Roast in preheated oven for 10 minutes before stuffing.

While peppers are roasting, prepare the filling. Add olive oil, onions, garlic, and beef broth to a large skillet over medium heat. Cook for 3-5 minutes or until onions are translucent. Stir in mushrooms, chopped roast beef, Worcestershire sauce, cream cheese, 4 American cheese slices, and black pepper. Stir until cheese is melted and combined. Stir in cooked U.S.-grown brown rice. Add additional broth if mixture seems dry. Taste for seasoning, and adjust salt and pepper if desired.

Stuff a piece of provolone cheese into the bottom of each green pepper. Chop the remaining 2 slices of American cheese and 2 slices of Provolone cheese into small squares, and set aside. Fill each pepper with rice and beef mixture. Bake for 10 minutes. Remove from oven and top each pepper with chopped American and Provolone cheeses. Return to oven for about 5 minutes, or until cheese is melted.

Serve immediately.
Recipe Notes
Peppers can also be sliced in half vertically and stuffed that way for more of an open-faced style stuffed pepper. A rimmed baking sheet pan works great for this style.