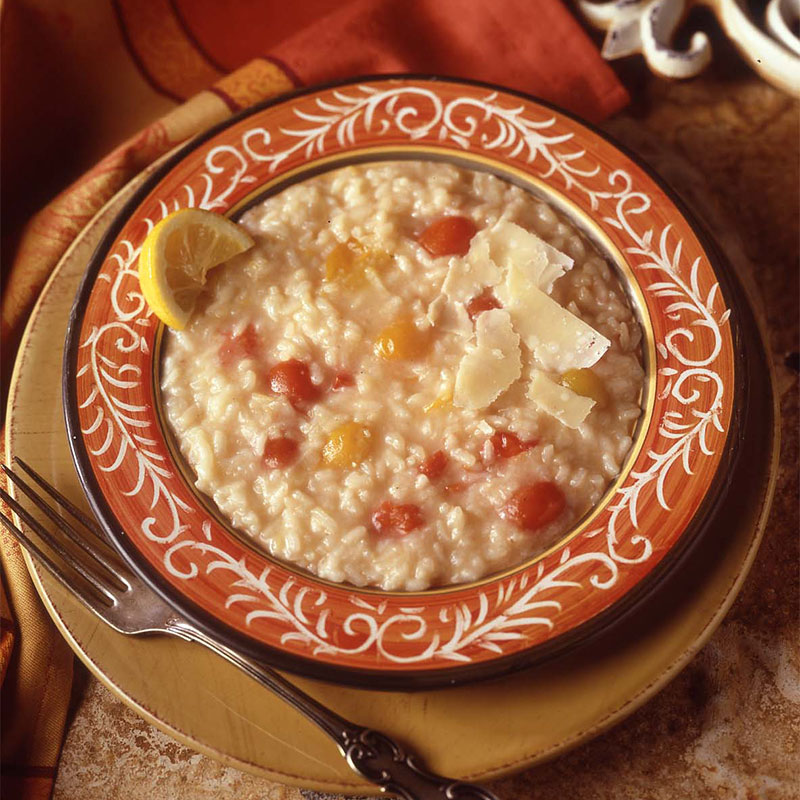 Tangy Tomato and Lemon Risotto
IACP Take 5! Recipe Contest Winner - Lynn Nelson
Ingredients
4 cups chicken broth

1 tablespoon olive oil

2 shallots, finely chopped

1 cup uncooked U.S.-grown arborio or medium grain rice

1 cup cherry tomatoes

½ cup + 1 tablespoon lemon juice + lemon zest
Directions
Heat broth in 2-quart saucepan over medium heat until it comes to a simmer. Reduce heat to low and keep warm.

Meanwhile, heat oil in large saucepan over medium heat. Add shallots; cook until soft. Add rice and stir 2 to 3 minutes. Increase heat to medium-high; stir in 1 cup broth. Cook uncovered, stirring frequently, until broth is absorbed. Continue stirring and adding remaining broth, 1 cup at a time, allowing each cup to be absorbed before adding another. Cook until rice is tender and mixture has a creamy consistency, approximately 25 to 30 minutes.

Stir in tomatoes, lemon juice and lemon peel. Serve immediately.

Nutrition Facts
Calories

172

Total Fat

4g

Sodium

671mg

Carbohydrates

30g

Dietary Fiber

1g

Protein

4g