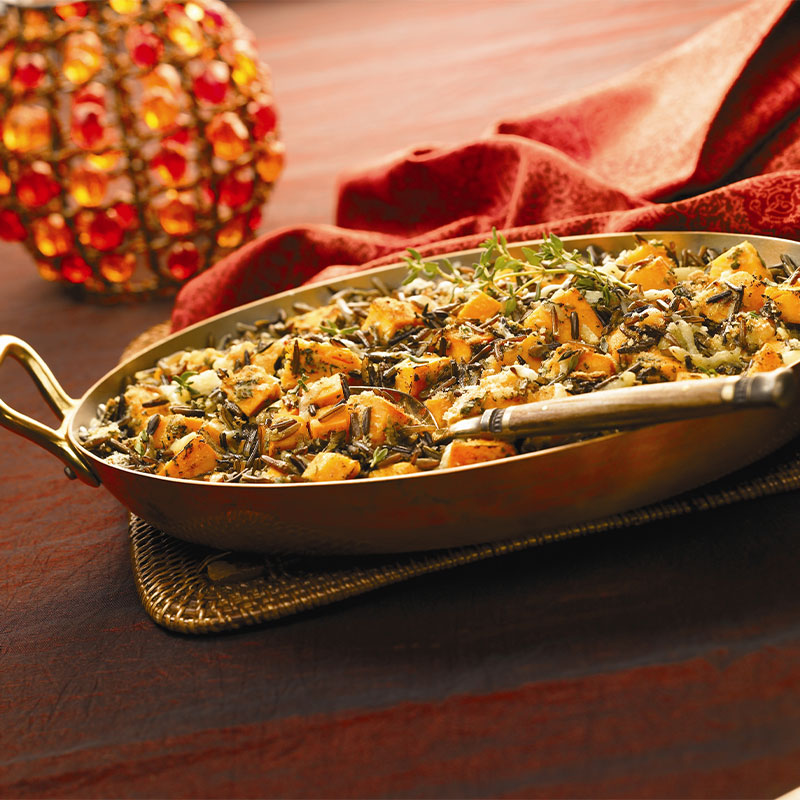 California Wild Rice and Pumpkin Gratin
This hearty pumpkin gratin is a typical dish served in the cold regions of Provence. Recipe courtesy of the California Wild Rice Advisory Board. Created by Chef Bernard Bruin and Chef Joshua Rabbie Chef Partners, La Provence Restaurant & Terrace Roseville, California.
Ingredients
1 pumpkin (2 pounds) peeled, seeded, and cut into 1-inch cubes

¾ cup cooked California wild rice

1 cup Gruyere cheese, shredded

¼ cup all-purpose flour

2 cloves garlic

1 bunch fresh thyme, chopped

Salt and pepper, to taste

1 pinch nutmeg

3 tablespoons breadcrumbs

3 tablespoons olive oil
Directions
Preheat oven to 325 degrees.


Oil a 7 x 9-inch baking dish. Place pumpkin cubes in a large bowl. Toss the wild rice, cheese, flour, garlic, thyme, salt, pepper and nutmeg, making sure the pumpkin cubes are well coated. Top with breadcrumbs and drizzle with olive oil.


Bake until pumpkin is tender when pierced with tip of a knife and top is golden brown, about 30 minutes. If the top has not browned sufficiently, raise oven temperature to 425 degrees and bake another few minutes. Remove from oven and serve hot.

Nutrition Facts
Calories

204

Total Fat

12g

Cholesterol

15mg

Sodium

72mg

Carbohydrates

20g

Dietary Fiber

3g

Protein

7g