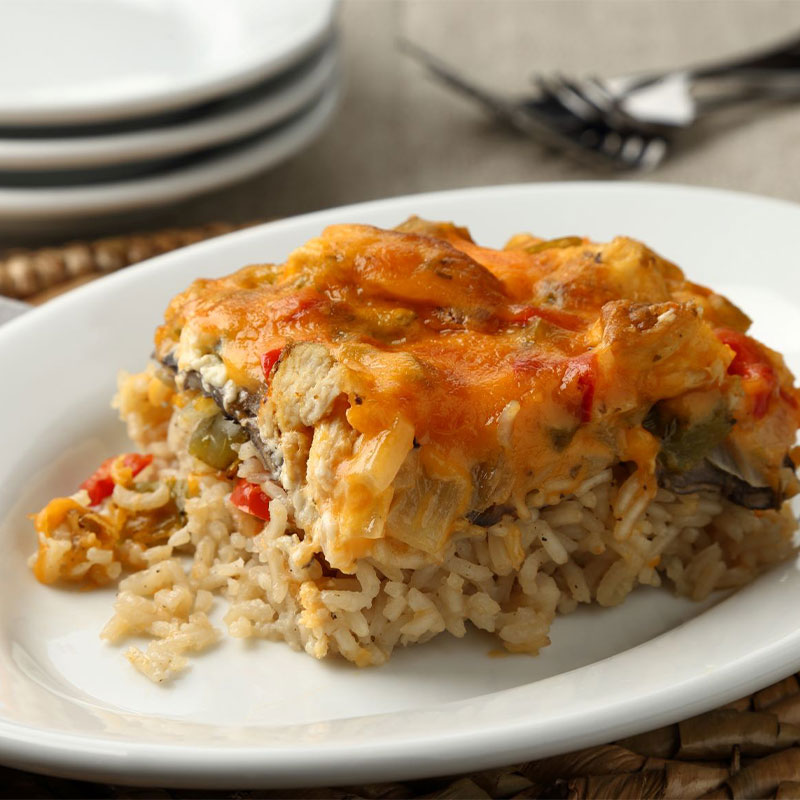 Creamy Cheesy Chicken Rice Casserole
Servings

24

Serving Size

1½ cups

Total Time

1 hr
Ingredients
7 cups chicken broth

4 cups us white long grain rice

1½ pounds mushrooms, sliced

1 tablespoon garlic powder

4 dried bay leaves

2 teaspoon dried thyme

1 tablespoon salt

1 teaspoon black pepper

2 8-ounce packages cream cheese, cut into bite-size pieces

3 cups yellow onions, chopped

4 cups green bell pepper, chopped

2 cups red bell pepper, chopped

8 cups chicken, cooked and chopped

1½ pounds sharp cheddar cheese, shredded
Directions
Preheat oven 350 degrees F.


Bring broth to a "rolling" boil in a large saucepan.


Meanwhile, place rice in bottom of a 20x12x4-inch hotel pan. Shake pan to distribute rice evenly over bottom of pan. Top with mushrooms and sprinkle garlic powder, bay leaves, thyme, salt and pepper evenly over all. Top with the cream cheese, onions, and green and red bell pepper.


Place pan on oven rack, pour boiling broth evenly over rice mixture, do not stir. Cover tightly with heavy duty foil, making sure edges are sealed and bake 45-55 minutes or until rice is tender. Remove from oven.


Reset oven to broil.


Sprinkle evenly with the chicken and cheddar cheese. Broil 2-3 minutes or until cheese has melted.


Remove from oven, let stand 15 minutes before serving to absorb flavors and for easy serving.


Cut into 24 squares.
Nutrition Facts
Serving

1½ cups

Calories

380

Total Fat

16g

Saturated Fat

8g

Trans Fat

0g

Cholesterol

90mgmg

Sodium

860mg

Carbohydrates

33g

Dietary Fiber

2g

Sugar

4g

Protein

26g