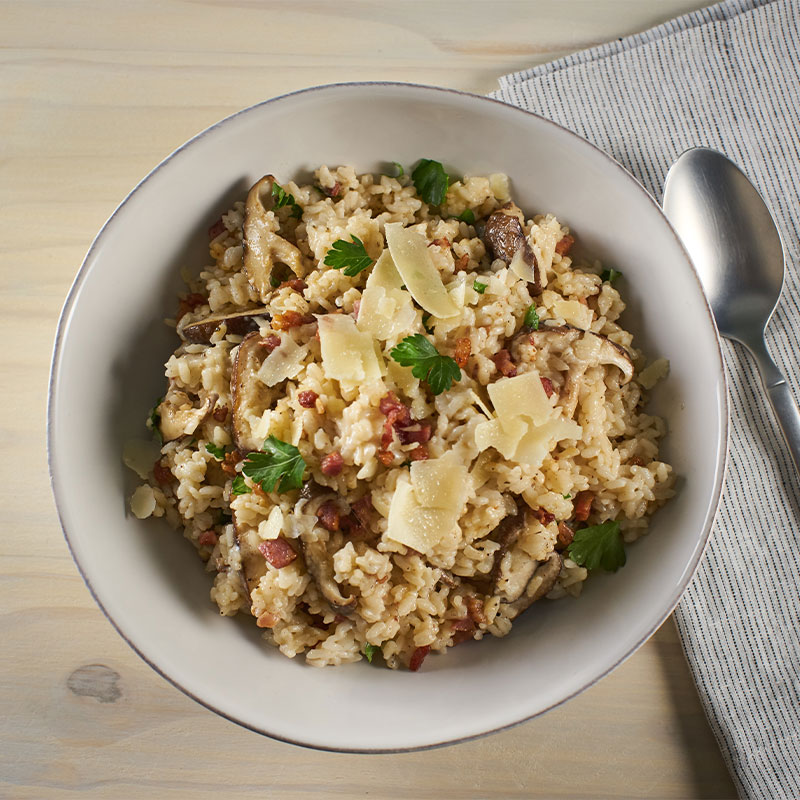 Ingredients
3 tablespoons butter

1 cup pancetta, lardon cut, chopped

1 cup trumpet mushrooms, sliced

1 cup garlic, minced

1 cup medium grain white rice

1 cup water

½ cup whole milk

½ teaspoon salt

¼ cup parmesan cheese, grated

1 tablespoon italian parsley, chopped

1½ tablespoons parmesan cheese shavings
Directions
Cook pancetta in butter until fat is rendered and pancetta is crispy.

Remove pancetta bits from pan, reserve 2 tablespoons for garnish.

Cook trumpet mushrooms and garlic in pancetta fat until fragrant.

Add rice to pan, cooking 1 minute.

Add milk and water and bring to a boil.

Reduce to simmer, cover and cook 12 minutes.

Add in grated Parmesan and continue to cook the rice to an al dente texture, stirring often, for 3-4 minutes more (the stirring action gives the rice a risotto like texture, stir more for a thickener result).

Garnish with pancetta, chopped Italian parsley and Parmesan shavings.