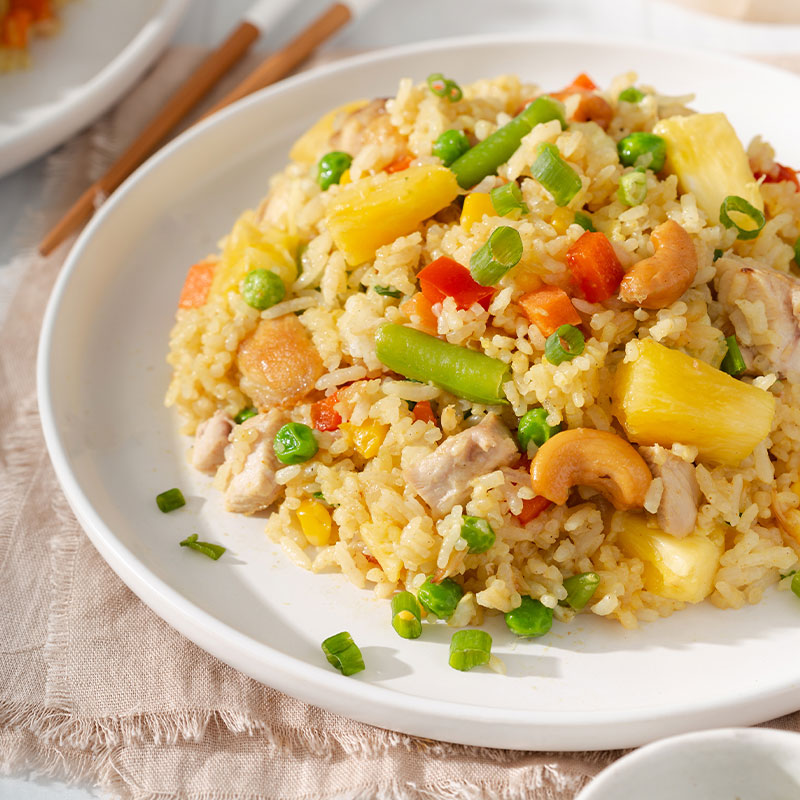 Thai Pineapple Fried Rice
Skip the takeout and make your own Thai Pineapple Fried Rice right at home. This fried rice recipe is easy to make and is as healthy as it is delicious!

Our Thai Pineapple Fried Rice features U.S.-grown jasmine rice and comes to us from our friend @TakeTwoEggs in partnership with USA Rice and TheFeedfeed.
Servings

5-6

Serving Size

1 bowl

Prep Time

15 min

Cook Time

15 min

Total Time

30 min
Ingredients
5 tablespoons vegetable oil

2 eggs

¼ teaspoon salt

1 pound boneless skinless chicken thighs

4 garlic cloves, minced

½ yellow onion, chopped

½ red bell pepper, diced

½ cup green beans, peas, carrots corn, frozen

⅓ cup cashews, toasted

5 cups cooked, day old jasmine rice

2 tablespoons light soy sauce

1 tablespoons fish sauce

2 teaspoons sugar

½ teaspoon curry powder

¼ teaspoon white pepper

1½ cups pineapple, diced

4 stalks green onion, sliced
Directions
In a small bowl, beat the eggs with ¼ teaspoon salt. Heat your wok over medium heat until hot. Add 1 tablespoon vegetable oil and scramble the eggs for 1 minute—until just cooked. Turn off the heat, break the egg into small pieces, and transfer to a dish. Set aside.

Generously salt and pepper both sides of the chicken thighs. In the wok, heat 2 tablespoons of vegetable oil on high heat. Cook the chicken thighs for about 4 minutes on each side or until done. Rest the chicken for 5 minutes then slice. Set aside.

Add 2 tablespoons of vegetable oil to the wok. Sauté the diced onion until translucent and golden brown. Then add the garlic and sauté until lightly browned. Next, add the bell pepper and toss for 1 min. Lastly, add frozen green beans, peas, carrots, and corn, and toasted cashews toss.

Add rice followed by the soy sauce, fish sauce, sugar, curry powder, and white pepper. Toss together for 2 min. or until rice grains are coated. Add in the chicken and scrambled eggs and toss until combined.

Finally, add the diced pineapple and green onion and toss for just 30 seconds until combined.
Recipe Notes
Make the rice the night before. You will need Jasmine rice that is slightly dried out so the grains will hold their shape and not stick together when you toss it with the vegetables and sauce. Toss the rice immediately when you remove it from the refrigerator so that it is still cold and will not become overly sticky when tossing.

Prepare all the ingredients before you start cooking on the wok. This will streamline the process of cooking and allow you to cook everything with ease and less stress.

Use a wok! A deep wok allows for easy tossing and allows all the flavors to seep through the entire dish.

Storage Instructions: You can store this pineapple fried rice in an airtight container in the refrigerator for up to 5 days. To reheat simply microwave until warm.
Nutrition Facts
Serving

1 bowl

Calories

779kcal

Total Fat

36g

Saturated Fat

7g

Trans Fat

0g

Cholesterol

191mg

Sodium

1110mg

Carbohydrates

82g

Dietary Fiber

6g

Sugar

13g

Protein

36g