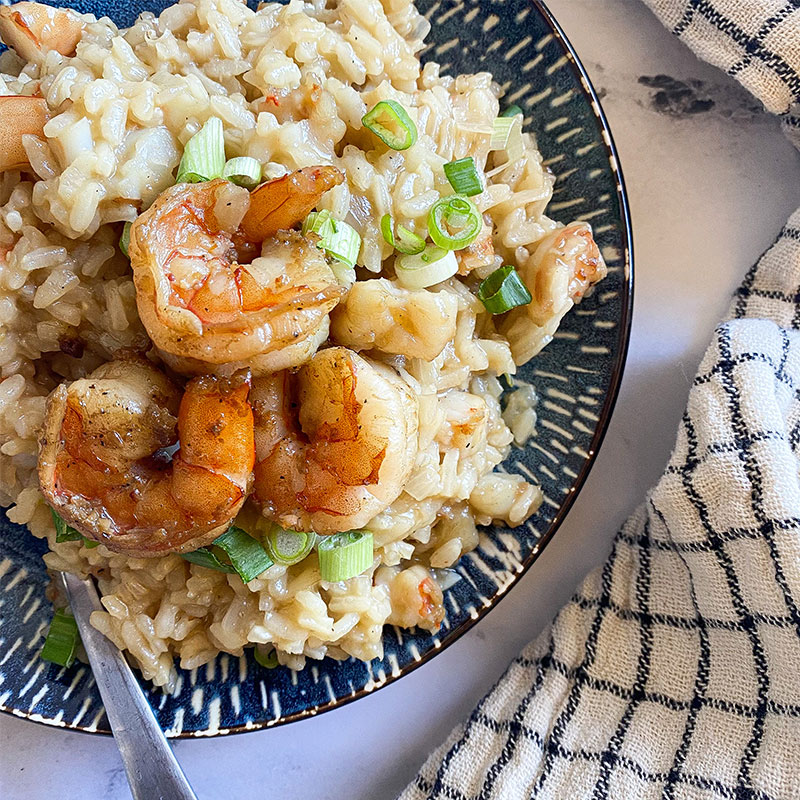 Shrimp Risotto
This easy risotto recipe comes together in just forty minutes and will have everyone at your table coming back for more! The simplified risotto dish stars U.S.-grown Arborio rice and was developed by our friends at the Seafood Nutrition Partnership.
Servings

4

Serving Size

1 bowl

Prep Time

10 min

Cook Time

30 min

Total Time

40 min
Ingredients
4 cups chicken broth
2 tablespoons olive oil
1 cup Arborio rice
1 cup dry white wine
1 pound shrimp (uncooked, peeled & deveined)
2 tablespoons butter, unsalted
1 tablespoon worcestershire sauce
3 cloves garlic, minced
2 shallots, finely chopped
salt and pepper, to taste
3 green onions, thinly sliced
Directions
Heat chicken broth to a simmer in a saucepan. Leave to keep warm on the burner while you prepare the risotto. In a large stockpot, heat the oil over medium heat. Sauté shallots for a couple of minutes.
Add in the Arborio rice and sauté for a couple of minutes until lightly toasted. Pour in the white wine and stir until evaporated. Add a ladle of the heated chicken stock to your rice and stir until evaporated. Repeat this process until the rice is done. This will take approximately 20 minutes and the rice will be done when it still has a nice bite to it but is fully cooked.
Meanwhile, melt butter in a large sauté pan over medium heat. Add garlic and heat until fragrant. Add shrimp and Worcestershire sauce and cook until the shrimp are pink. When shrimp is cooked, chop it up into pieces and stir into your cooked risotto. Top bowls of risotto with green onions.