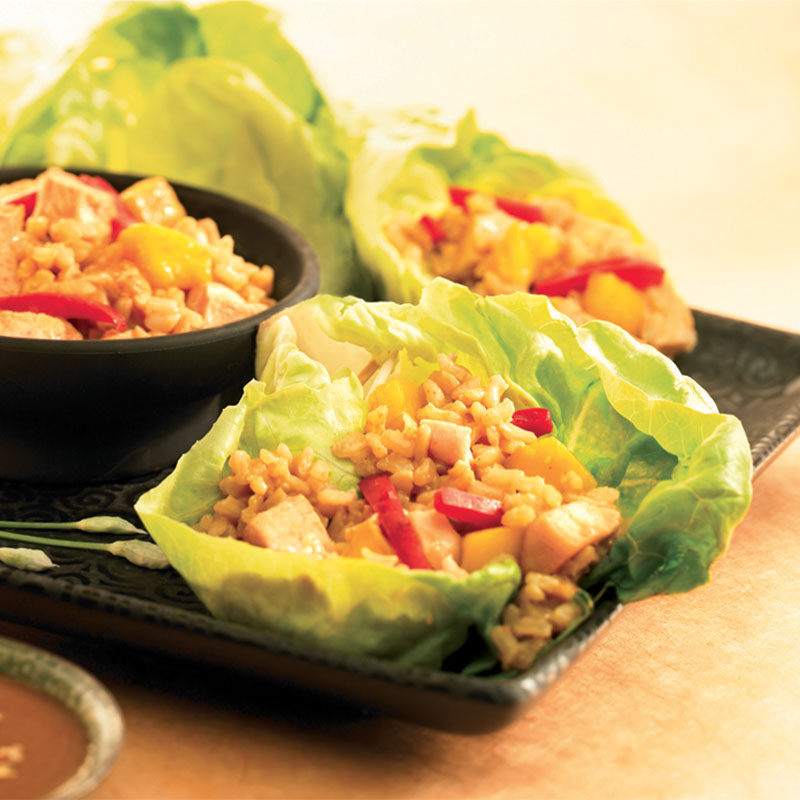 Thai Chicken & Brown Rice Lettuce Wraps
Recipe developed for USA Rice by Chef Cyndie Story, PhD, RD, CC. Click on the PDF below for complete nutritional information and recipe information for 50 & 100 servings.
Servings

50

Serving Size

2 wraps
Ingredients
6 pounds 4 ounces chicken fajita meat, cooked, frozen

4 pounds mango, fresh or frozen, peeled, diced

2 pounds red bell peppers, raw, cut into 2-inch by ½ inch strips

1 quart 1 cup peanut sauce, prepared*

8 pounds brown rice, medium or long grain, cooked

3 ounces (2 cups) cilantro, fresh, chopped

100 each lettuce, iceberg or boston, large whole leaves
Directions
Lightly coat 4-inch full size steam table pans with food release spray. Place 3 pounds 2 ounces chicken into each pan. For 50 servings use 2 pans.

Add to each pan 2 pounds diced mango or pineapple, 1-pound red pepper strips, and 1 quart prepared peanut sauce*.

Cover and cook in a preheated 350°F oven for 30 minutes, or until the internal temperature reaches 135°F or above.
Critical Control Point: Heat to 135°F or higher for at least 15 seconds.

Stir 2 pounds of hot, cooked brown rice into each pan.
Critical Control Point: Hold for service at 135°F or higher.

Sprinkle ½ cup of chopped fresh cilantro over each pan just before service.

Place 1 cup of the Thai Chicken and Rice mixture in a serving container.

Serve 2 large, fresh lettuce leaves with each serving for students to make their own lettuce wrap.
Recipe Notes
For a peanut free sauce consider whisking together: 1 pint 2 ounce prepared sweet chili sauce and 1 pint 7 ounce pineapple juice.
Nutrition Facts
Serving

2 wraps

Calories

39.1

Total Fat

7.6g

Saturated Fat

2g

Sodium

859mg

Carbohydrates

39.1g

Dietary Fiber

2.9g

Protein

20.7g