March 19, 2019
Other Rice Uses: Kid's Toys & Entertainment
The versatility of U.S.-grown rice is not limited to taste, nutrition, or cuisine! There are so many non-consumption uses for U.S.-grown rice.
Here are some creative kid's toys and activities using uncooked rice: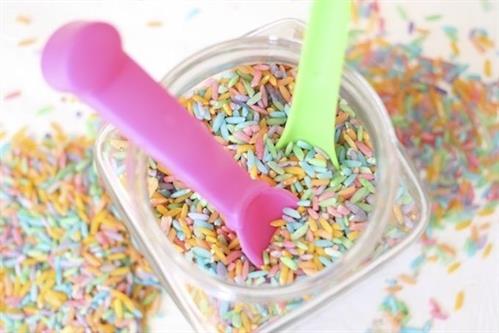 Rainbow Rice
: Start with a bag of white rice. In a large Ziploc, combine 3 T. water, 2–5 drops of food coloring, seal, and mix. Then open the bag, add a cup of rice, re-close and shake the Ziploc. Drain off the excess water and spread the rice out on paper towels or newspaper to dry. Use the dried rice with white glue to make a mosaic especially if you make several colors of dyed rice. Here's another option from
My Frugal Adventures
.
I-Spy Bottle
: Fill up a clear bottle with little objects from around the home and rice, leaving a gap at the top so that when you shake the bottle, items will be able to move around. The little objects include dice, charms, paper clips, buttons..etc
Dancing Rice Science Experiment
: Make rice dance with this cool baking soda and vinegar science experiment for kids! You'll just need a few items from your kitchen to create this exciting science activity.
Rain Stick
: Make a rainstick using recycled materials and things from around the house! A fantastic musical instrument for young children that sounds just like falling rain!
Homemade Instruments
: Making homemade musical instruments is such a fun activity, kids love getting involved with decorating them and then are so delighted to use them afterwards to make some music.
Weighted Sensory Belt
: Are you looking for solutions for sensory challenges that kids face? Try this weighted lap belt. It is perfect for kids who are constantly jiggling their legs.