January 4, 2023
Start your New Year and "New You" with Rice!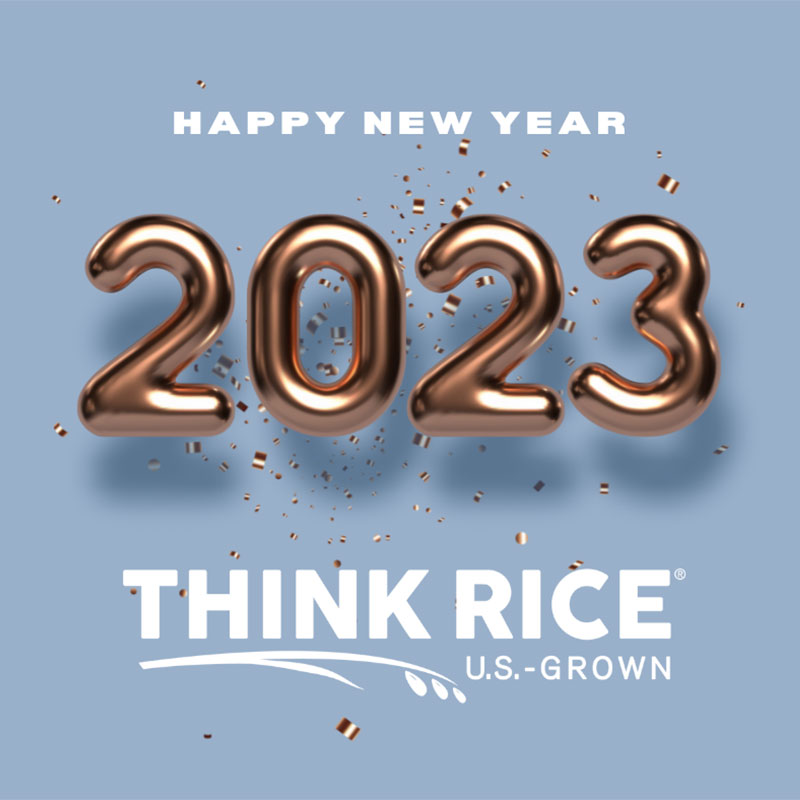 It's that time of year again: our opportunities seem endless, our optimism is at its highest, and our most ambitious goals for the next twelve months are taking shape. Unfortunately, reality has a tendency to derail these plans, but U.S.-grown rice is here to kick off the new year and the new you the rice way—by helping you maintain a healthy diet, support physical activity, boost your mood and wellbeing, and practice self-care.
Increase the Quality of your Diet
This tiny but mighty grain is nutrient-rich, supplying energy, complex carbohydrates, protein, fiber, beneficial antioxidants, and more than 15 vitamins and minerals. It is gluten-free, highly digestible, and the least allergenic grain, making it a practical and nutritious choice for those embarking on a New Years diet resolution.

Here's the scoop on U.S.-Grown Rice:

It's a "hundred calorie pack": One half-cup serving of rice contains about 100 calories.

It's a "free" food: Naturally sodium-, cholesterol-, gluten- and GMO-free.

It's plant-based: Plant-based diets provide environmental, nutritional, and health benefits.

It packs a nutritional punch: Rice provides essential vitamins and minerals, including folic acid, B vitamins, potassium, magnesium, selenium, fiber, iron, and zinc.

Whole grain goodness: Whole grains like brown or wild rice can help reduce health problems while providing numerous benefits. Research shows that eating whole grains can reduce the risk of coronary heart disease, type 2 diabetes, certain cancers, and may aid in weight maintenance. Like fruits and veggies, whole grains have been identified as a key dietary component contributing to better health outcomes.
Energy booster: Rice is a complex carbohydrate that helps fuel your body and brain.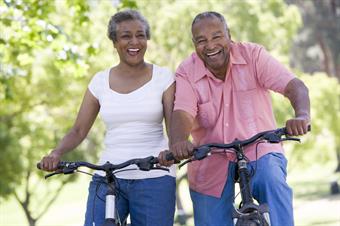 Enhance Your Workout
The benefits of rice consumption are far ranging when it comes to physical activity. From boosting overall performance and preventing injury to recovery and meal planning, U.S.-grown rice is the perfect option for those kickstarting their exercise routine.
Hitting the gym requires carbohydrate-rich foods like rice before, during, and after
workouts to help fight off fatigue and replenish depleted muscle energy. Incorporating rice into workout meals provides athletes with long-lasting energy and an excellent source of complex carbohydrates, protein, vitamins, and minerals to maximize performance.

Boosts Your Performance
To enhance physical performance, high-quality, nutrient-dense carbohydrate sources like U.S.-grown rice are critical. These types of carbohydrates are digested slowly, which allows athletes to remain energized for extended periods of time or at a higher density.

When and what to eat post-workout depends on the intensity of the exercise session. As part of a carbohydrate-rich post-workout meal, rice helps ensure that muscle energy is replenished. As training volume and intensities increase, more energy is required and the need for more carbohydrate-rich foods like U.S.-grown rice, also increases to maximize energy and improve workout performance.

Recover Faster and Prevent Injury
When muscles with low glycogen stores (muscle energy) become fatigued, they lose strength and consequently the ability to protect joints from injury. Keeping blood sugar and glycogen stores high decreases the risk of injury. This means that eating carbohydrate-rich foods as part of your exercise routine can combat fatigue and lower the risk of injury.

After intense workouts, muscles need to take in carbohydrates to help replenish the glycogen stores lost during exercise. These same carbs also encourage muscle protein synthesis so that athletes can recover and tackle their next workout with ease. U.S.-grown rice provides a great source of easily digestible carbs, packed with nutrients to support various nutritional demands. By incorporating domestic rice along with protein-rich foods, athletes can ensure their muscles are able to properly repair themselves after each workout.

Whether it's boosting your energy, strengthening your muscles, or promoting the healing process, delicious and versatile U.S.-grown rice is the perfect fuel to jumpstart your 2023 workout regimen.

Elevate Your Meal Planning & Preparation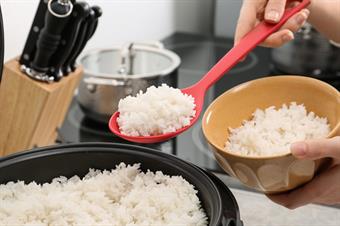 Meal preparation and planning is essential for any new year exercise or diet goal. Rice can play a helpful role in meal prep as it is easy to store, easy to cook, and keeps well in the fridge or freezer. Rice is versatile, pairing well with any ingredient and compatible with many styles of cuisine. It's also affordable, widely available at almost all grocery stores or markets, and can be cooked ahead of time in large batches.

Whether you need a quick serving of easily digestible carbs after a workout, or simply a well-portioned and healthy dinner on a busy weeknight, meal prepping with U.S.-grown rice is a great option.

Improves Your Mood
Rice consumption can impact your emotional wellbeing just as positively as it does your physical wellness. As a slowly-digested complex carbohydrate, rice improves energy throughout the day better than simple sugars, allowing the body to maintain more consistent long-term energy levels. Additionally, research shows that eating rice increases serotonin levels, otherwise known as the "feel-good chemical," which improves mood and helps regulate appetite. Rice can also be a "comfort food" as a component of many traditional and beloved dishes worldwide, and can create a dining experience that encourages quality time with others—both situations which improve mental health.
Practice Self-Care
What "New Year, New You" plan doesn't include time for self-care? This may come as a surprise, but rice has been used in beauty, cosmetic, and self-care practices throughout human history, going back as far as ancient times. U.S.-grown rice can strengthen hair, exfoliate skin, soothe sore muscles, and help you relax.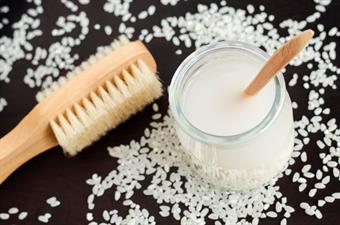 Washing hair with rice water has proven to be a beneficial hair treatment that can improve the strength, texture, and growth of hair. Rice water is rich in amino acids, which strengthen hair roots, adds shine, and makes hair smooth and silky. It also contains the inositol carbohydrate which repairs damaged hair and protects from further damage.

Rice is also great for skin thanks to its exfoliating, antioxidant, and anti-inflammatory properties. Face scrubs that include rice as an ingredient can control excess shine and oil on the face. The starch in rice water has also been shown to help heal damaged skin. There are many options for simple, DIY rice masks, cleansers, and rinses that can give your skin a healthy glow and revitalize it after the busy holiday season. It's also a natural, cost-effective self-care treat in a world where beauty products can be quite expensive and contain lots of chemicals.

Lastly, heating pads filled with rice can soothe sore muscles, injuries, and cramps, and rice-filled eye masks can enhance relaxation, especially when chilled or scented with aromatherapy fragrances. Simple pouches of fabric using dry, uncooked rice as a filling are easy to make yourself or affordable to purchase, efficiently retain both heat and cold, and have been used throughout time for pain relief and self-care.
While this is only the tip of the grain when it comes to the ways U.S.-grown rice can help launch your new year lifestyle, it is clearly a powerful and versatile tool that can enable you to stick to your resolutions and support your wellbeing. U.S.-grown rice is good for your body, both inside and out. Happy New Year!