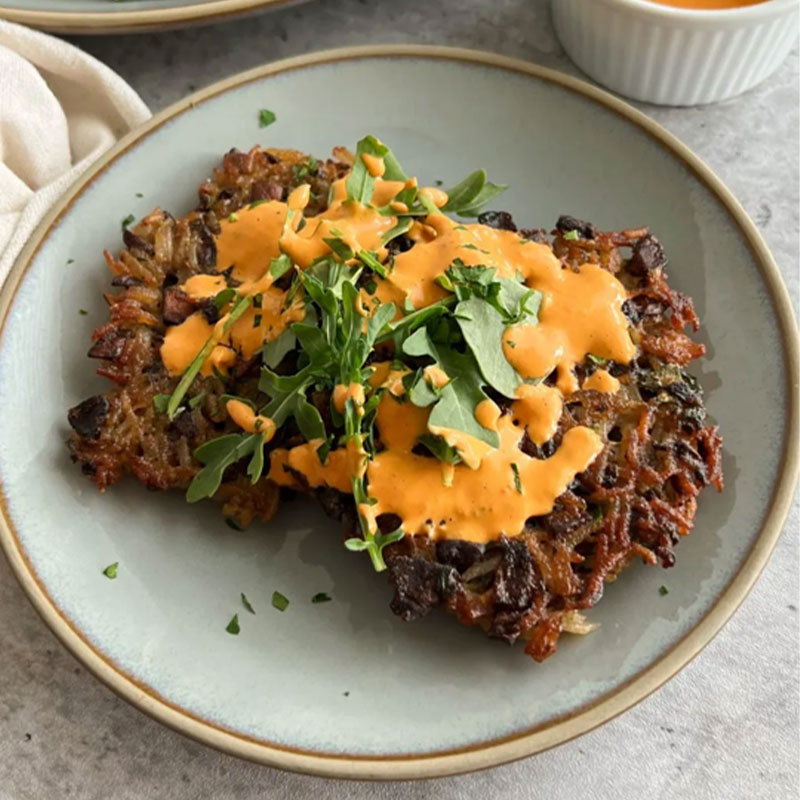 Balsamic Mushroom Rice Fritters
These Balsamic Mushroom Rice Fritters are a delicious appetizer or side dish to make with fresh or leftover rice! Easy to make and served with a creamy red pepper tahini sauce for the perfect flavor combination.

This recipe stars U.S.-grown basmati rice and comes to us from our friend Gal of Something Nutritious in partnership with USA Rice.
Servings

5

Serving Size

2 fritters

Prep Time

15 min

Cook Time

25 min

Total Time

40 min
Ingredients
Rice Fritters

2 cups cooked U.S.-grown basmati rice

10 oz baby bella mushrooms, finely chopped

½ yellow onion, diced

¼ cup tapioca flour

2 eggs

2 tablespoons olive oil

3 tablespoons balsamic

2 tablespoons fresh parsley

½ teaspoon salt

½ teaspoon black pepper

½ teaspoon cumin

½ teaspoon garlic powder
avocado oil for frying
Red Pepper Tahini

½ cup tahini

⅓ cup + 2 tablespoons water

½ jarred roasted red pepper

2 tablespoons lemon juice

1 clove garlic

pinch of salt and chili flakes
Directions
Heat a skillet with 2 tablespoons of olive oil and sauté the chopped mushrooms & onion for about 7-8 minutes on medium low heat.

Add in 3 tablespoons of balsamic vinegar and lightly season with salt & pepper. Cook for another 2 minutes.

Once the mushrooms cooked down, add them to a bowl with the cooked rice, seasoning, parsley, eggs and flour.

Mix well until its fully combined.

Frying instructions: heat about ¼ cup neutral oil in a pan on medium/low heat. Once hot, spoon about 3 tbsp of the mixture into the oil and flatten it down gently. Let it cook for 2 minutes on one side, then flip and cook for another minute.

Baking instructions: line a baking sheet with parchment paper and scoop out 3 tablespoons of mixture then flatten it into a patty. Drizzle with olive oil and bake on 400 F for 15-18 minutes, flipping halfway.

Make the red pepper tahini by blending together all of the red pepper tahini sauce ingredients and serve with the warm fritters.
Recipe Notes
Leftovers can be refrigerated for 3 days, or frozen for 2 months.