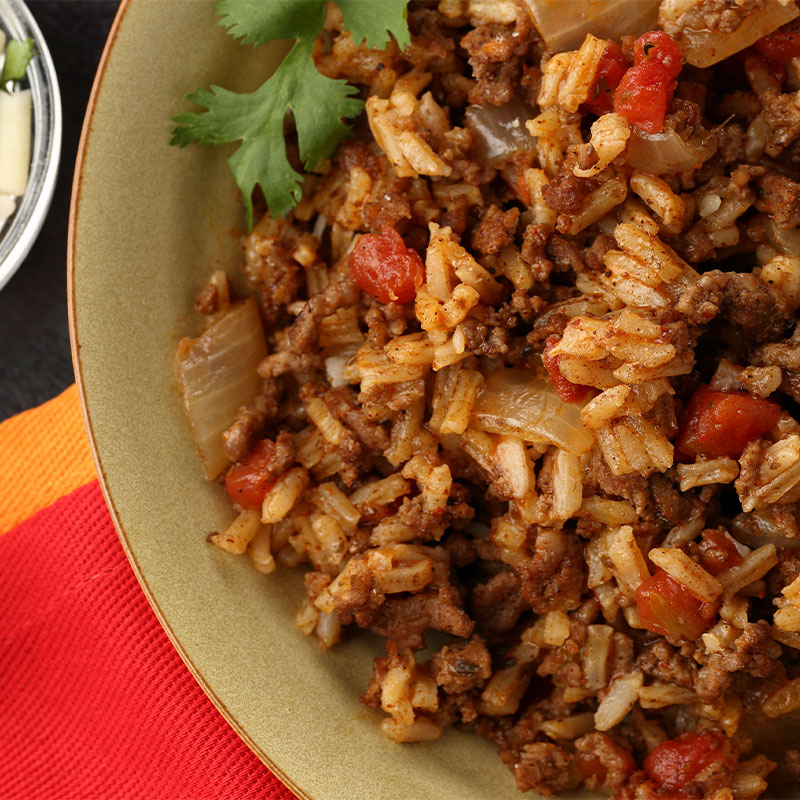 Servings

24

Serving Size

1 cup rice mixture; ¼ cup cheese
Ingredients
4 cups long grain rice, uncooked

4 lbs ground beef

2.5 quarts water

4 (10-ounce) cans of mild diced tomatoes with green chilies

½ cup chili powder

¼ cup dried oregano leaves

2 tablespoons sugar

1 tablespoon, plus 1 teaspoon salt

3 tablespoons worcestershire sauce

1½ lbs monterey jack cheese, shredded

1½ cups fresh cilantro, chopped (optional)
Directions
Heat a large stock pot over medium-high heat. Add the beef and cook until no longer pink, stirring to break up larger pieces. Stir in the onion and cook 5 minutes or until onions are slightly translucent, stirring frequently.

Stir in the water, tomatoes, chili powder, oregano, sugar, salt, and Worcestershire sauce. Bring to a boil over high heat. Stir in the rice. Return to a boil, stir rice again, reduce heat, cover and cook on low heat for 22 minutes or until rice is just tender. Stir until well blended. (Note: the mixture will thicken when stirred.)

Remove from heat. Combine the cheese with the cilantro and toss until well blended. Serve each topped with ¼ cup of the cheese mixture. (Note: store in separate container and top at time of serving.)

Makes 24 cups rice mixture and 6 cups cheese total.

Nutrition Facts
Serving

245g

Calories

390

Total Fat

19g

Saturated Fat

8g

Trans Fat

0g

Cholesterol

75mg

Sodium

920mg

Carbohydrates

34g

Dietary Fiber

2g

Sugar

4g

Protein

23g