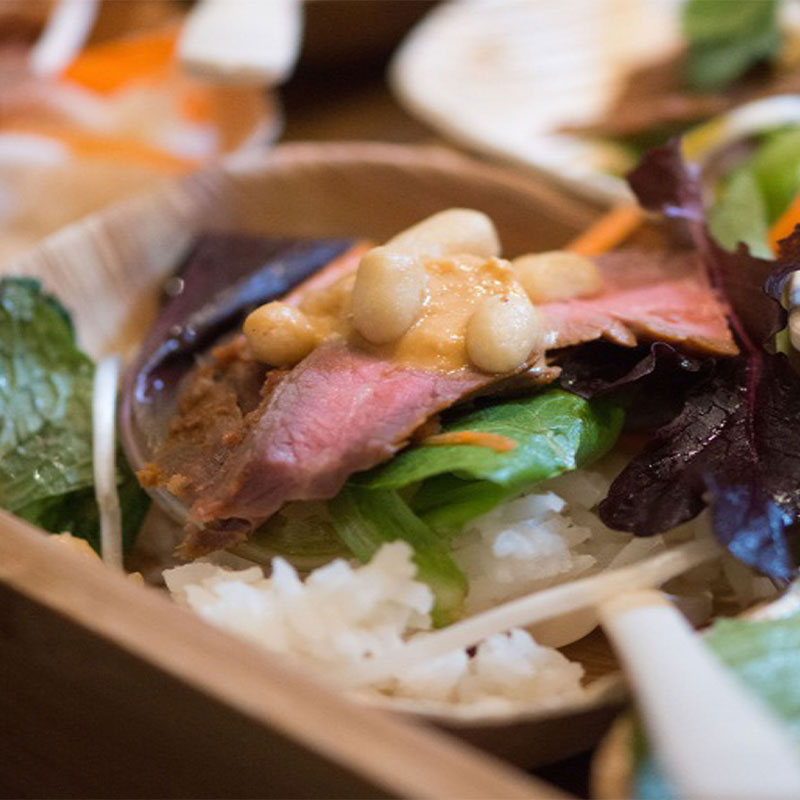 Beef Satay Rice Bowl
Serve rice bowls to use up inventory, boost profits and explore your culinary creativity. This bowl employs Thai flavors and flank steak. Feel free to substitute almost any cut of grilled beef and any aromatic U.S.-grown rice.
Servings

12

Serving Size

2 cups

Prep Time

20 min

Cook Time

10 min

Total Time

30 min
Ingredients
Marinade

2 tablespoons lemon grass, minced

1 tablespoon ginger, minced

3 garlic cloves, minced

1½ tablespoons red curry paste

3 tablespoons sugar

⅓ cup fish sauce
3 pounds beef flank steak
Satay Sauce

2 tablespoons vegetable oil

2 teaspoons garlic, minced

2 tablespoons shallot, minced

1 tablespoon red curry paste

1 teaspoon lime zest

1 tablespoon lemon grass, minced

1 can (13.5 oz) canned coconut milk

2 teaspoons tamarind pulp

2 tablespoons fish sauce

2 tablespoons sugar

1 tablespoon + 1 teaspoon lime juice, divided

2 teaspoons lime zest, divided
½ cup crunchy peanut butter
Salad

3 quarts cooked jasmine rice

12 tender lettuce leaves

1½ cups carrots, peeled and cut into julienne

1 cup bean sprouts

36 mint leaves

36 basil leaves

¼ cup lemon grass vinaigrette

¼ cup cilantro (garnish)
¾ cup Peanuts (garnish)
Lemon Grass Vinaigrette

8 lemongrass stalks, minced

1 cup rice wine vinegar

2 tablespoons sugar

¼ cup lime juice

2 tablespoons fresh thai bird chile, finely sliced
Directions
Marinade:
Combine the lemon grass, ginger, garlic, curry paste, sugar and fish sauce in a bowl.

Add the beef strips; toss to coat, cover and refrigerate for at least 1 hour.

Satay Sauce:
Heat the oil in a skillet. Add the garlic, shallot, curry paste, 1 teaspoon lime zest, and lemon grass. Stir-fry until aromatic.
Add the coconut milk, tamarind, fish sauce, sugar, 1 tablespoon lime juice, and peanut butter. Simmer for about 8 minutes, or until the consistency of unbeaten cream. Taste and adjust seasoning, if needed (add remaining lime juice and lime zest).
Beef:
Remove the beef from the marinade; discard marinade.
If using skewers, slice beef into 26 strips and thread a strip of beef onto each skewer. Just before service, grill the skewered beef over a high fire until browned (about 1 1/2 minutes).
If not skewered, griddle cook over the highest heat possible until browned or 125⁰ F internal temperature; slice beef into 36 strips.
Salad:
Place 1 cup hot rice in a deep bowl. Top with lettuce, carrots, bean sprouts and herbs. Dress lightly with vinaigrette. Place 3 strips of beef on top; drizzle with peanut sauce and garnish with chopped cilantro and peanuts.
Lemon Grass Vinaigrette:
In a saucepan, bring the lemongrass, vinegar and sugar to a boil over high heat; reduce by half. Remove from heat and strain; discard lemongrass. Add the remaining ingredients and mix well; refrigerate until ready to use.