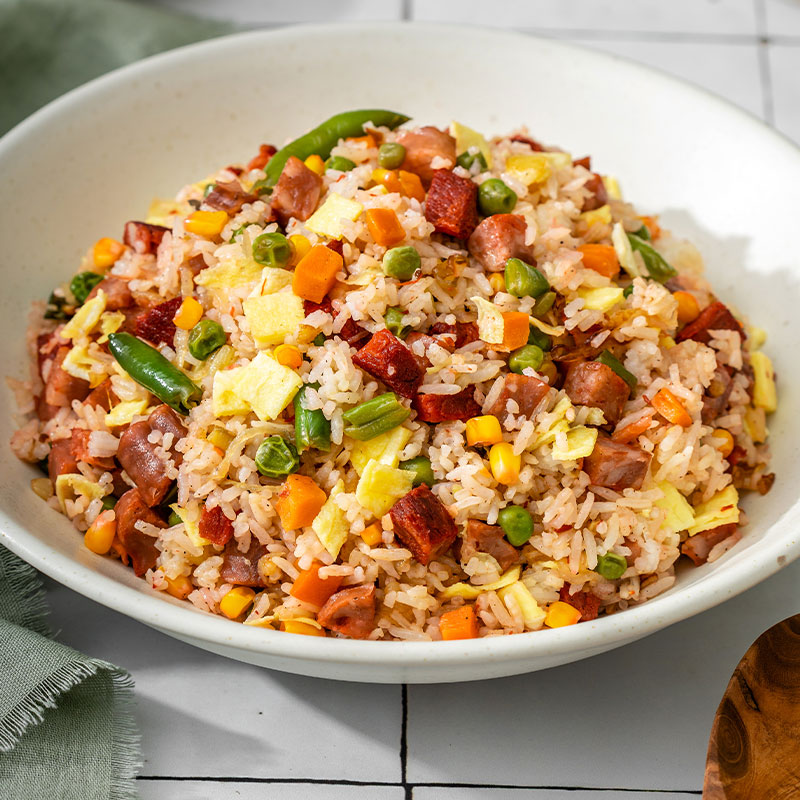 Cơm Chiên (Fried Rice)
There is fried rice and then there is Cơm Chiên! This umami-packed and easy to make fried rice combines aromatic jasmine rice with with char siu pork, Chinese sausages, eggs, and veggies.

The recipe stars U.S.-grown jasmine rice and comes to our from our friend @takestwoeggs in partnership with thefeedfeed and USA Rice.
Servings

5-6

Serving Size

1 bowl

Prep Time

20 min

Cook Time

20 min

Total Time

40 min
Ingredients
3 cups jasmine rice, cooked

¼ pound char siu pork, thinly sliced

2-3 Chinese sausages, cut into small cubes

5 large eggs

5 large shallots, peeled and thinly sliced

10 garlic cloves, smashed and roughly chopped

1 pound of frozen peas corn, green beans, carrots

1 tablespoon chicken bouillon powder

½ teaspoon black pepper

¾ tablespoon soy sauce

¾ tablespoon fish sauce
Directions
Cook the 3 cups of rice or use day-old rice that has been sitting in the refrigerator. After cooking the rice, fluff with fork, spread it on a tray, and refrigerate until cold.
Whisk the eggs in a mixing bowl. Then place 1 tablespoon of oil in a pan on medium-high heat. When the pan is hot pour in about 2-3 tablespoon of egg and spread out thinly in a pan about 6-inch diameter like a crepe. Cook for 30 seconds and then flip the egg-like crepe, cook for another 30 seconds, and place on the cutting board in a full circle. Continue with the rest of the mixture and pile the eggs on top of each other. Slice into 1 cm strips and then dice into 1 cm squares.
Stir fry the meat. Heat a wok on high heat and add Chinese sausage and cook for 1 minute. Then add char siu and cook for another 1 minute.
Add in vegetables and bouillon. Stir for 2 min.
Mix in eggs and pepper. Cook for 2-3 minutes. Mix thoroughly. Then empty the wok onto a large tray.
Sauté shallots and garlic. Add 3-5 tablespoons of olive oil on the wok and heat on high. Add shallots and garlic on high heat until very brown, fragrant, and crispy.
Mix in the rice and sauces. Then turn off the heat and mix in the rice, soy sauce, fish sauce, and 1 tablespoon of chicken powder.
Add in the vegetables and meat and mix.
Recipe Notes
Char Siu Pork is readily available at most Chinese Takeout, alternatively this BBQ sauce can be purchased online. Or you can sub this marinated protein all together for chicken or others of your liking.

Use day-old rice or cook the rice with less water. The texture and dryness of the rice are important so you don't have a mushy, clumpy, and unevenly distributed fried rice.

Use a wok or alternatively a really large frying pan. I personally think that a wok is the best type of pan there is for stir-fried dishes. The shape of a wok is designed especially for all the wild tossing.

Storage: You can store this Chinese sausage fried rice in an airtight container for up to 1 week. Alternatively, you can store it in an airtight container in the freezer for up to 3 months. Before eating, thaw the rice in the refrigerator overnight. To warm, cover with a wet paper towel and microwave it.

Nutrition Facts
Serving

1 bowl

Calories

507kcal

Total Fat

19g

Saturated Fat

6g

Cholesterol

225mg

Sodium

1194mg

Carbohydrates

60g

Dietary Fiber

9g

Sugar

12g

Protein

27g