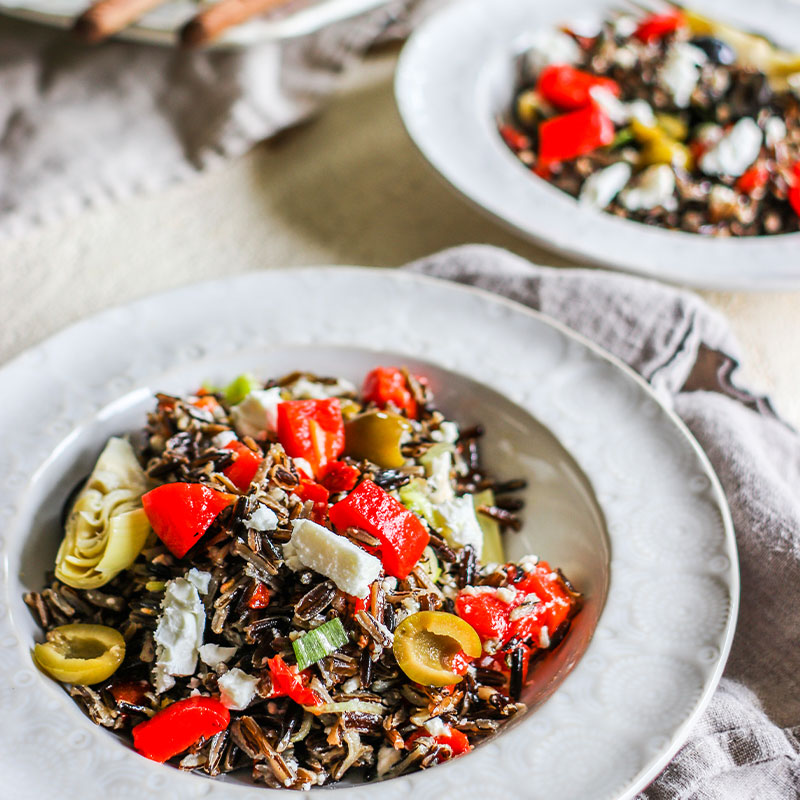 California Wild Rice & Olive Salad
Enjoy this flavorful Mediteranean-inspired salad featuring California-grown Wild Rice. Perfect for lunch or dinner as a side or main dish!

This recipe was provided by the California Wild Rice Advisory Board in collaboration with California Ripe Olives.
Ingredients
Vinaigrette:

1 clove garlic, minced

½ tablespoon dried oregano
¼ teaspoon Dijon mustard

⅛ cup red wine vinegar

½ teaspoon kosher salt
¼ teaspoon freshly ground black pepper
¼ cup olive oil
Salad:

1 (8-ounce pack) wild rice, prepared per package instructions
1 (12-ounce jar) roasted red bell peppers. drained and chopped

1 (7.5-ounce) jar quartered marinated artichoke hearts, drained and halved
¼ cup sun-dried tomatoes packed in oil, drained and diced

1 green onion, sliced thin
4 ounces feta cheese, crumbled

¼ cup pitted green olives, sliced
¼ cup pitted black olives, sliced
Directions
For the vinaigrette, whisk together the garlic, oregano, mustard, vinegar, salt and pepper in a small bowl. Still whisking, slowly add the olive oil to make an emulsion. Set aside.

In a large mixing bowl combine the prepared wild rice, roasted peppers, artichoke hearts, sun-dried tomatoes, and green onions. Pour the vinaigrette over the top and toss to combine.

Add the feta cheese and the olives then toss lightly. Set aside for 30 minutes to allow the flavors to blend. Serve at room temperature.