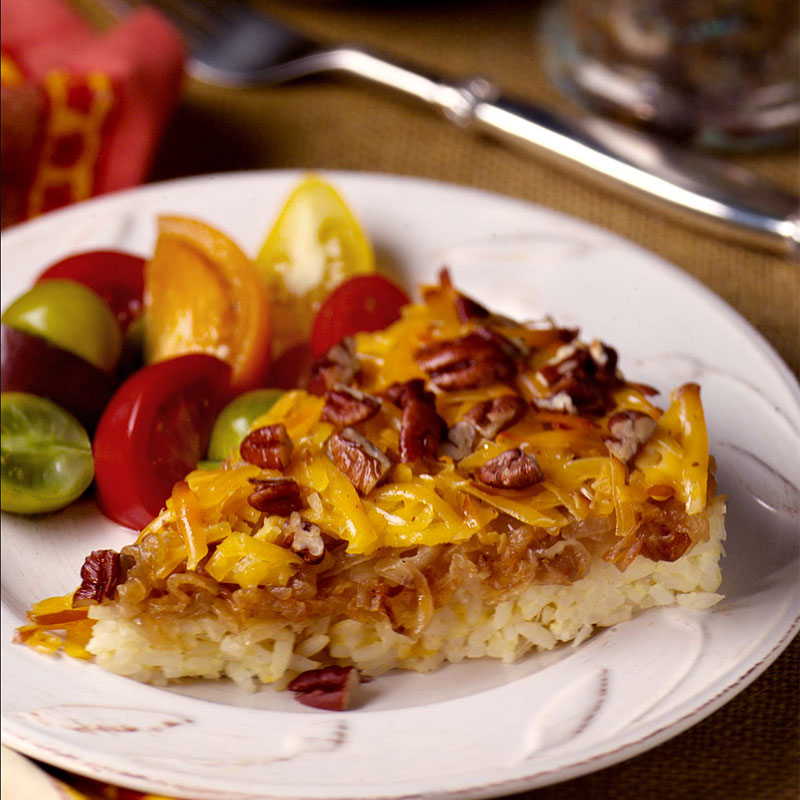 Caramelized Onion, Smoked Gouda and Pecan Rice Tart
"Rice to the Rescue!" Recipe Contest Winner - Anna Ginsberg
Servings

6

Serving Size

1 tart slice
Ingredients
2 tablespoons butter

4 cups onion, sliced (about 3 large)

3 cups cooked rice

¾ cup Parmesan cheese

3 eggs

2 cups smoked Gouda cheese, shredded

¾ cup chopped pecans

Directions
Preheat oven to 400 degrees.


Heat butter in large skillet over medium heat. Add onion and sauté 8 to 10 minutes, stirring periodically until browned and caramelized.


Meanwhile, combine rice, Parmesan and eggs in a medium bowl. Press mixture into bottom of a 10-inch removable bottom pan. Distribute onion over crust and top with smoked Gouda and pecans. Bake in preheated oven 12 to 15 minutes, until pecans are toasted.
Recipe Notes
To hasten caramelizing, add 2 tablespoons brown sugar to onions just as they become translucent.
Nutrition Facts
Serving

1 slice

Calories

240

Total Fat

15g

Cholesterol

76mg

Sodium

290mg

Carbohydrates

17g

Dietary Fiber

2g

Protein

10g