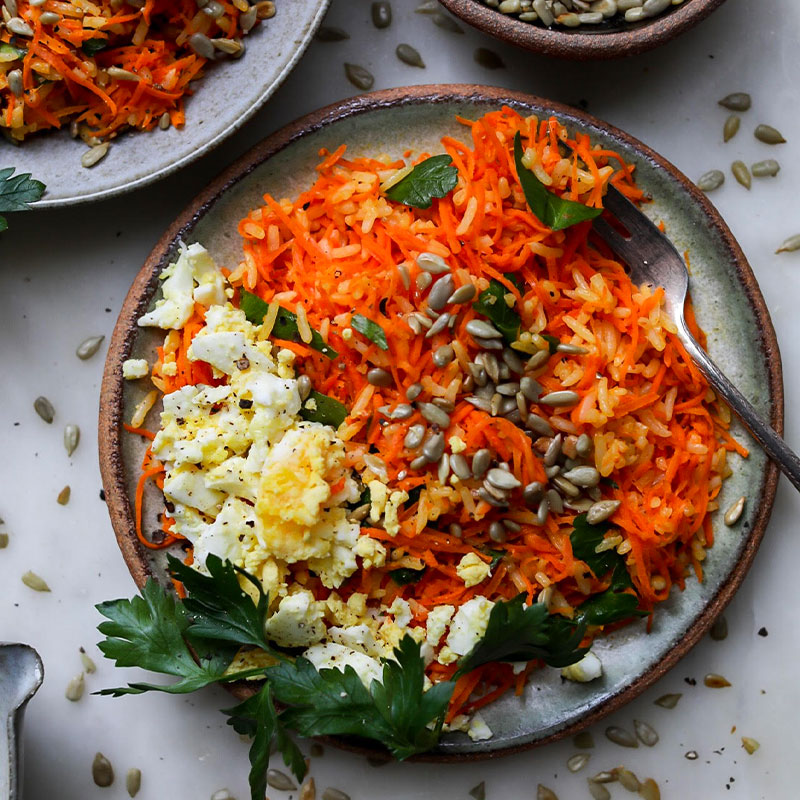 Carottes Râpées with Rice and Sunflower Seeds
This American take on a classic French salad is perfect for summer and features U.S.-grown long grain white rice. This recipe comes to us from our friend Jill Fergus in partnership with The FeedFeed and USA Rice.
Prep Time

20 min

Cook Time

10 min

Total Time

30 min
Ingredients
½ lb carrots, finely julienned or grated

1 cup u.s.-grown long grain white rice

handful flat-leaf parsley

¼ cup seasoned rice vinegar

¼ cup extra virgin olive oil

1 teaspoon dijon mustard

1 teaspoon extra virgin olive oil

flaky sea salt

fresh ground pepper

3 eggs

½ cup raw sunflower seeds
Directions
Prepare rice per package directions cutting back the water by 1/2 cup. Fluff with a fork and set aside to allow to cool a bit. You don't want to toss the rice while it's hot, but slightly warm to the touch.


While the rice is cooking, prepare the vinaigrette, grate the carrots and chop the parsley. Boil the eggs for 10 minutes and add to an ice bath to stop cooking. You don't want gray edged yolks. Mash eggs with a fork so you have a course finish. Set aside.


Preheat a heavy bottomed pan over medium heat. Add 1 tsp of olive oil and sunflower seeds. Toast until edges just begin to turn golden. Add sea salt to taste and remove from heat to a small bowl.

Recipe Notes
Using your hands, toss carrots with rice to distribute and add vinaigrette, starting with about half (1/4 cup). Taste and add more to suit your preference being careful not to overdress. Gently incorporate parsley and season with sea salt and fresh ground pepper. Top with chopped egg and sunflower seeds. Serve and enjoy!!!

The finer you're able to julienne the carrots the better. I recommend using the finest setting of a food processor. A spiralizer, or similar, using the finest option works well, too. You'll simply need to cut your carrots noodles into shorter pieces. I have an old Moulinex grater (not to be confused with their food Mill) I use for these which I love. A box grater is also just fine, as it releases the juice. You'll simply have a slightly different texture.

For added sweetness, use seasoned rice vinegar for this vinaigrette.

Tossing this by hand allows the vinaigrette to blend beautifully with the natural juice of the carrots and coats the grains of rice allowing for even distribution of the flavors.

The rice should be prepared "al dente" as it will absorb the vinaigrette.

If you prefer a vegan option, simply omit the egg