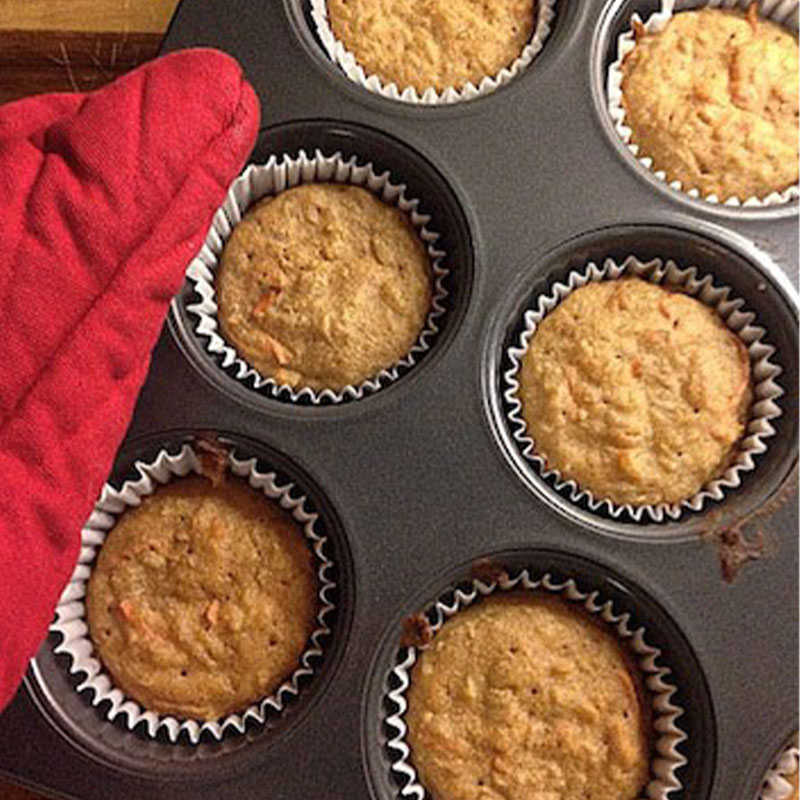 Carrot, Coconut and Rice Muffin
Recipe developed for USA Rice by Holley Grainger, MS, RD.
Servings

20

Serving Size

1 muffin

Prep Time

25 min

Cook Time

20 min

Total Time

45 min
Ingredients
¾ cup whole wheat pastry flour

¾ cup oat flour

½ cup spelt flour

⅓ cup shredded coconut

1 teaspoon baking powder

1 teaspoon baking soda

2 teaspoons ground cinnamon

½ teaspoon salt

1 cup carrots, shredded

½ cup vanilla greek yogurt

2 large eggs, beaten

½ cup agave nectar

¼ cup unsweetened applesauce

2 tablespoons coconut oil

1 teaspoons pure vanilla extract

1 cup cooked U.S.-grown brown rice

cooking spray
Directions
Preheat oven to 350°.


In a medium bowl, whisk together whole wheat pastry flour, oat flour, spelt flour, shredded coconut, baking powder, baking soda, cinnamon, and salt.


In a separate bowl, whisk together carrots, Greek yogurt, eggs, agave nectar, applesauce, coconut oil, and vanilla extract until combined.


Add carrot mixture to flour mixture and stir just until moist. Gently fold in cooked rice.


Place 20 paper muffin cup liners in muffin cups; coat liners with cooking spray. Spoon batter into prepared cups, until ⅔ full. Bake at 350° for 20 to 25 minutes or until a wooden pick inserted in center comes out clean. Cool 10 minutes in pan on a wire rack; remove from pan.
Recipe Notes
Store muffins in the refrigerator or freezer to keep fresh.
Nutrition Facts
Serving

1 muffin

Calories

110

Total Fat

3.5g

Saturated Fat

2.5g

Trans Fat

0g

Cholesterol

20mg

Sodium

160mg

Carbohydrates

17g

Dietary Fiber

2g

Sugar

8g

Protein

3g