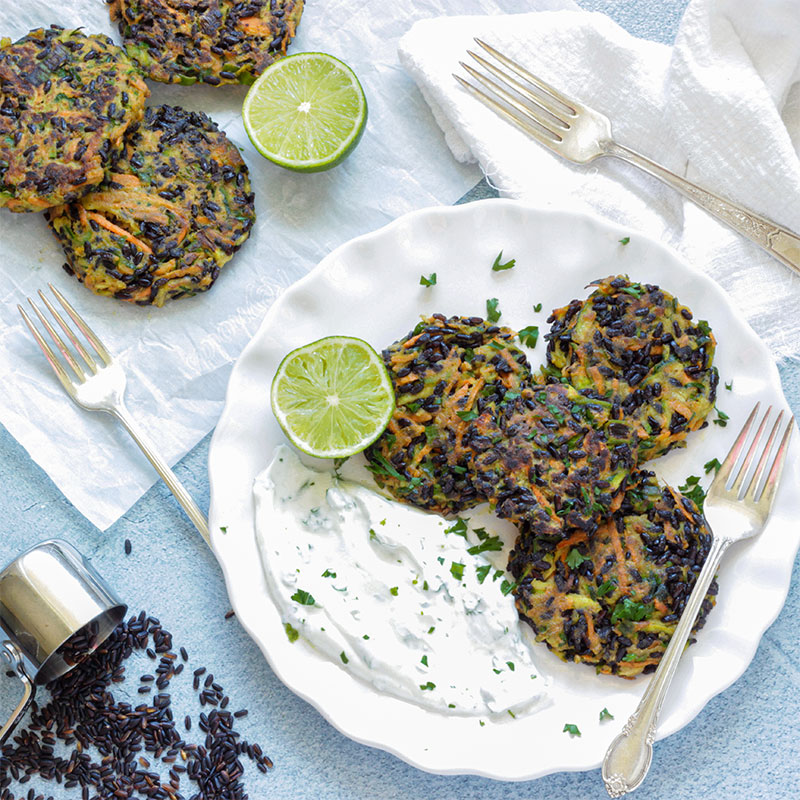 Carrot Zucchini & Black Rice Fritters
You will love these nutritious Carrot Zucchini & Black Rice Fritters! They are easy to make, fun to eat, and freezer-friendly.

This recipe features U.S.-grown black rice and comes to us from our friend Anne Danahy in partnership with USA Rice.
Servings

4

Serving Size

2 fritters and ¼ cup yogurt sauce

Prep Time

3 hrs 45 min

Cook Time

15 min

Total Time

4 hr
Ingredients
½ cup black pearl rice

1 cup water

½ teaspoon salt (divided)

1 medium zucchini grated

2 medium carrots peeled and grated

2 tablespoons minced fresh parsley

3 scallions minced

¼ teaspoon garlic powder

¼ teaspoon cumin

½ teaspoon ground coriander

2 large eggs

5 tablespoons brown rice flour or other gluten-free or regular flour
2 tablespoons olive oil
Optional Yogurt Sauce

1 cup plain Greek yogurt

2 tablespoons minced parsley

1 teaspoon lime zest

1 teaspoon lime juice

pinch salt
Directions
Put the rice, water, and a pinch of the salt in a medium saucepan and bring it to a boil. Reduce the heat to low, cover, and let the rice simmer until the water is absorbed and the rice is tender and fluffy (about 30 minutes). Let the cooked rice cool for 15 minutes.

While the rice is cooking, place the shredded zucchini in a colander over the sink. Sprinkle a pinch of salt over it and toss well. Let the zucchini sit for about 15 minutes, or until it gives up some liquid. Squeeze out any excess liquid.

In a large mixing bowl, combine the rice, shredded carrots, drained zucchini, minced parsley, and minced scallions. Add the garlic powder, cumin, coriander, and remaining ¼ teaspoon of salt (or to taste).

In a separate bowl, combine the eggs and rice flour. Mix well until smooth. Add this to the vegetable mixture and mix well.

Heat a nonstick frying pan over medium-high heat and add 2 tablespoons of olive oil. Form the vegetable batter into patties about 3-inches in diameter. When the oil is hot, add 3 or 4 to the pan (however many fit comfortably in your pan) and let them cook for about 4 minutes on each side. Keep an eye on the heat, you may need to turn it down a bit so the fritters cook evenly and don't burn.

Repeat with the remaining batter.

To make the yogurt sauce, combine the Greek yogurt, parsley, lime zest and juice, and a pinch of sauce in a small bowl.

Serve 2 fritters with about ¼ cup of the yogurt sauce for each portion.

Recipe Notes
Keep some cooked rice in the fridge to cut 45 minutes off the prep time!

Use the grating blade on a food processor to grate the vegetables in seconds.
Nutrition Facts
Serving

2 fritters

Calories

286kcal

Total Fat

11g

Saturated Fat

2g

Trans Fat

1g

Cholesterol

96mg

Sodium

379mg

Carbohydrates

35g

Dietary Fiber

3g

Sugar

5g

Protein

12g