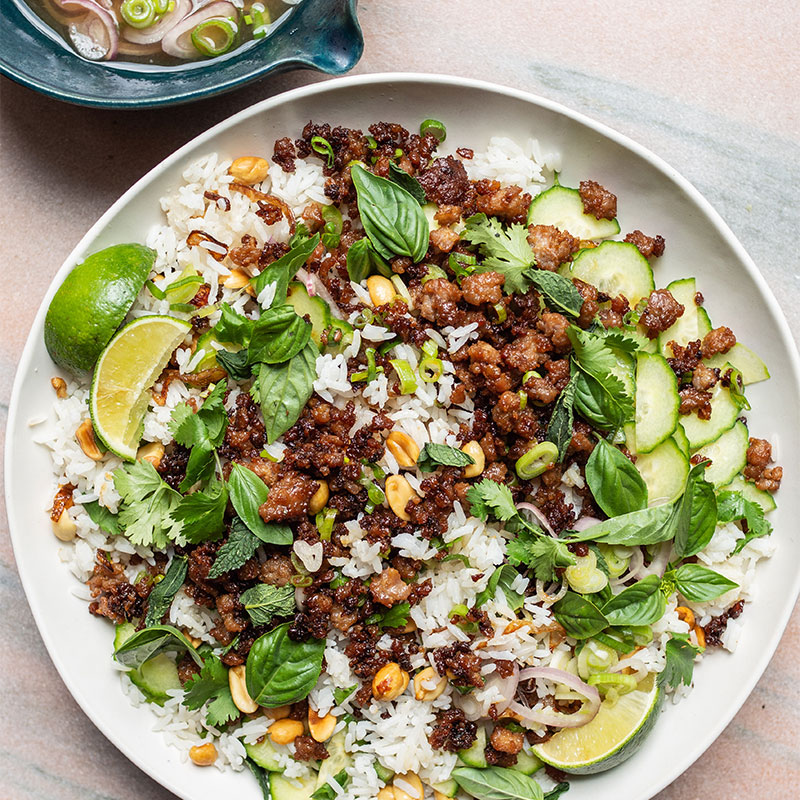 Crispy Pork Rice Salad
This recipe was created by our friend Ashley Marti of @LocalHaven in partnership with USA Rice and TheFeedfeed.
Servings

4

Prep Time

25 min

Cook Time

25 min

Total Time

50 min
Ingredients
3 cups cooked long grain rice

2 tablespoons fresh lime juice

1 teaspoon kosher salt

½ cup extra-virgin olive oil

1 cup roasted, unsalted peanuts

1 shallot, sliced into thin rings
2 tablespoon cilantro leaves, chopped
Garnishes

1 small english cucumber, halved and thinly sliced

1 lime, sliced into wedges
1 cup herb mix (cilantro, basil, and mint)
Lime fish sauce

1 small shallot, thinly sliced into rounds

2 tablespoons fish sauce

¼ cup lime juice

½ teaspoon sugar

½ teaspoon red pepper flakes

2 scallions, thinly sliced

Crispy caramelized pork

3 tablespoons canola oil

1 pound ground pork

2 tablespoons fish sauce

2 teaspoons caramel sauce

1 teaspoons sugar

2 green onions, thinly sliced
Directions
Combine rice, lime juice, and salt in a large serving bowl; set aside.


Heat ¼ cup olive oil in a small skillet over medium heat. Add the shallot rings and cook, until brown and crisped, about 5-7 minutes. Strain the shallots and let cool (and continue to crisp) onto a paper towel.


Return pan to medium-low heat and add peanuts. Cook, stirring, until peanuts turn a medium shade of brown and become fragrant, 5–8 minutes. Add peanuts, shallots and cilantro to rice and toss together.


Taste and add more salt and lime juice, if needed. Set aside
Lime Fish Sauce

In a small bowl, whisk together shallots, fish sauce, lime juice, sugar, chile flakes, and scallions. Set aside.

Crispy Caramelized Pork

Warm the oil in a large skillet over medium heat. Add the pork, breaking it up into small pieces for 3-4 pieces until no longer pink. Add the fish sauce, caramel sauce and sugar, stirring to combine.


Turn the heat to medium-high and cook for another 5 minutes until deeply browned. Keep stirring and spreading out the pork to cover the bottom of the skillet. Lower the heat to medium and cook for another 3 minutes, stirring to avoid burning.


Remove the skillet from the heat and stir in the green onions.
Using a slotted spoon, add the crispy caramelized pork to the cilantro peanut rice. Top with cucumbers, cilantro, mint and basil and serve with lime wedges and the lime fish sauce.