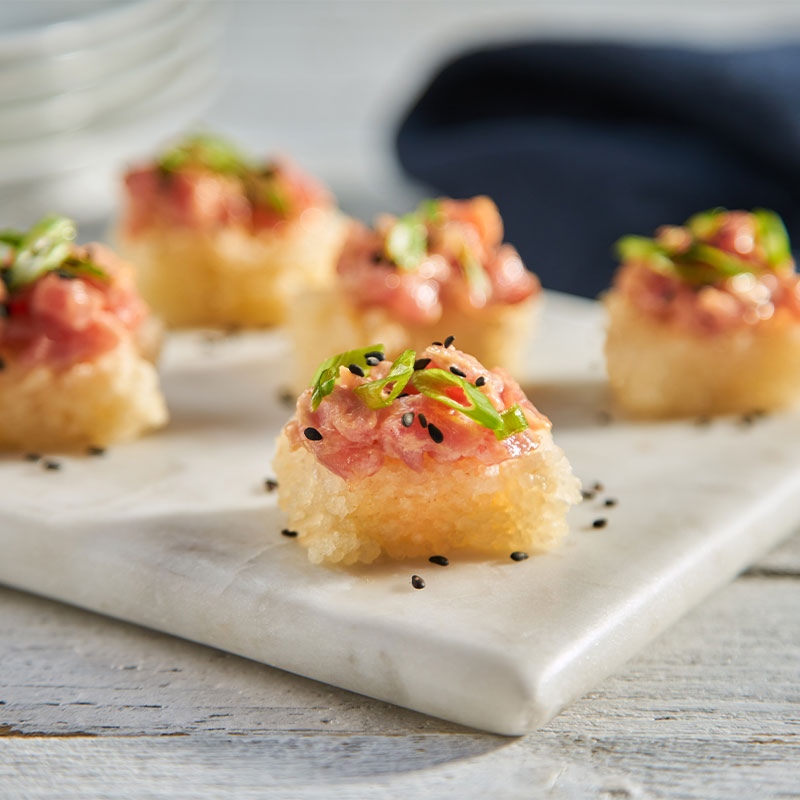 Crispy Rice & Tuna Canape
Servings

4

Serving Size

2 pieces
Ingredients
1 quart arborio rice, cooked

¼ cup rice wine vinegar (use 10% extra water to cook rice)

1½ teaspoons sugar

1 cup ginger ponzu tuna

4 teaspoons scallion, ¼" slice on a bias

2 teaspoons sesame seeds, toasted

Ginger ponzu tuna

½ tablespoon ginger, minced

1 tablespoon garlic, minced

2 tablespoons soy sauce, low sodium

1½ tablespoons sriracha

1 cup mayonnaise

2 cups tuna, sushi grade, small dice
Directions
Fold cooked arborio rice, vinegar, and sugar together.

Lay 1" of rice mixture onto a sheet tray lined with plastic wrap.


Cover rice with plastic wrap and place another equally sized sheet tray with around 2-3 lbs of added weight on top of it. Let press for 2-3 hours or until rice completely cools.


Remove rice from refrigerator and uncover. Cut rice into 8, 1"x2" rectangles.


Fry cut rice in 350˚ oil until light golden brown.


Top each crispy rice cake with 2 Tablespoons of Ginger Ponzu Tuna, ½ teaspoon of sliced scallion, and ¼ teaspoon toasted sesame seed.
Ginger Ponzu Tuna

Whisk together ginger, garlic, soy sauce, sriracha, and mayonnaise until all ingredients are fully combined.


Gently fold in diced tuna until it is evenly covered.


Reserve in the fridge until ready for use.