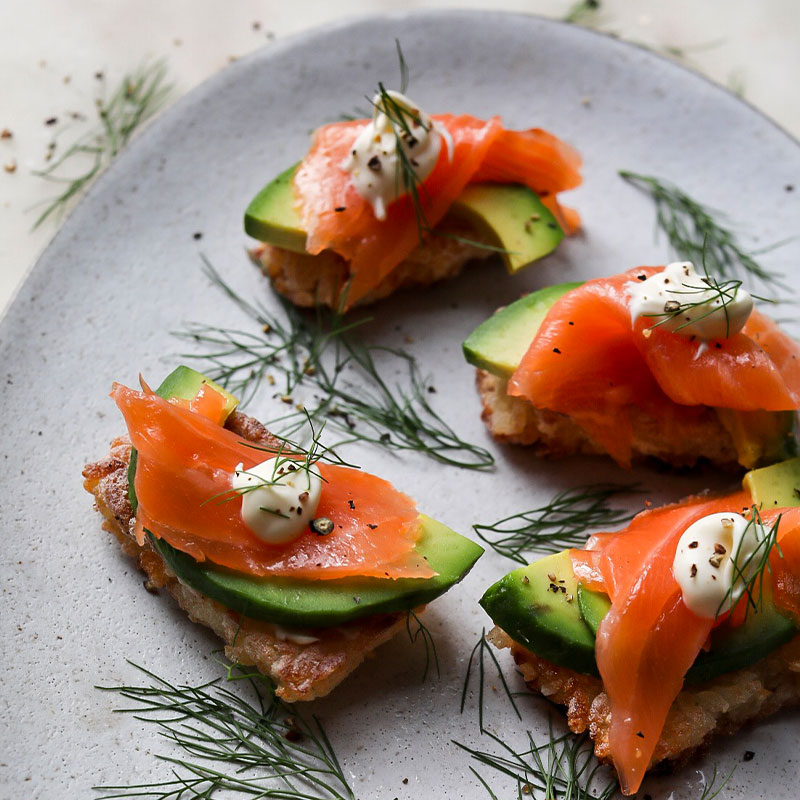 Crispy Sushi Rice with Smoked Salmon & Avocado
This crowd-pleasing recipe using simple ingredients to create explosive flavors and a wonderful variety of textures. This recipe comes to us from our friend Jill Fergus in partnership with The FeedFeed and USA Rice.
Ingredients
¼ cup seasoned rice vinegar

2 tablespoons mirin

2 cups short grain sushi rice

2 teaspoons salt

1 cup rice flour

grape seed oil (for frying)

avocado, thinly sliced

¼ pound smoked salmon, sliced into 1

6 ounce creme fraiche or room temp cream cheese

fresh ground pepper

fresh herbs (dill, chives, scallions, or fennel fronds)

Directions
Whisk rice vinegar and mirin.

Prepare per rice cooker instructions adding the salt. If cooking stovetop, add 2 cups water, rice and salt and over medium-high heat bring to just boiling. Cover and reduce heat to low and simmer for 20 minutes. Turn off heat and allow to sit covered for another 15 minutes.

Add cooked rice to a large bowl and drizzle vinegar mixture throughout and quickly mix thoroughly using a rice paddle or wide wooden spoon until fully incorporated.

Wipe a glass baking dish, 8x8" or 9x9" with a thin coating of oil, and, using wet hands to avoid sticking, firmly press warm/room temperature sushi rice into the baking dish, cover and refrigerate overnight or until fully chilled (overnight is best).

Line a cutting board with wax paper, or plastic wrap (I try to avoid using plastic, but if it's what you have on hand, it does work well). Gently invert rice onto prepared board and slice into rectangles or squares (your choice!). If rice is sticking, run knife under hot tap water and proceed.

Add grape seed oil to a heavy bottomed skillet about ½" deep and heat over med-high heat until shimmering (about 350F). Lightly dredge rice cake bases through rice flour and fry about 3-5 minutes each side until golden brown. If oil gets too hot, reduce heat to medium. Set cooked bases aside on a dish lined with paper towel.

Top each base with a slice of avocado, a strip of salmon, a small dollop of crème fraiche, a turn of fresh ground pepper and fresh herbs. Serve immediately.