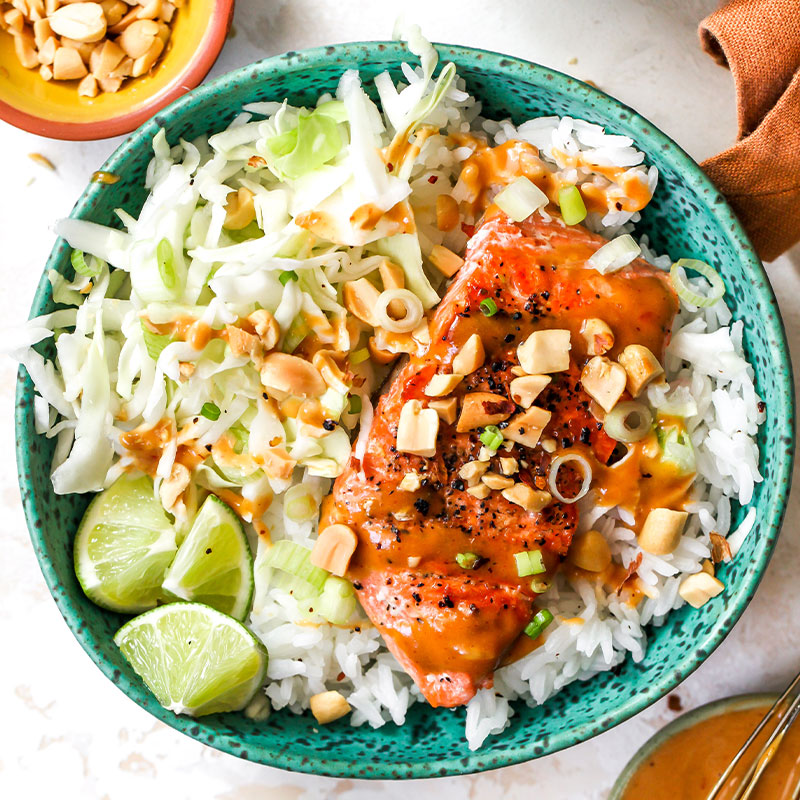 Firecracker Salmon Bowls
Enjoy these nutritious and flavorful bowls from our friend Jaime Vespa of DishingOutHealth. This recipe features U.S.-grown Jasmine rice and comes together in just 30 minutes!
Servings

4

Serving Size

1 bowl

Prep Time

10 min

Cook Time

10 min

Total Time

20 min
Ingredients
1 cup jasmine rice

2 tablespoons extra virgin olive oil

4 skin-on salmon fillets (6-ounce)

salt and pepper (to taste)

2 cups shredded cabbage

3 tablespoons green onion, thinly sliced

1 tablespoon rice vinegar (or lime juice)
⅓ cup roasted peanuts, roughly chopped
Firecracker Peanut Sauce

¼ cup creamy peanut butter

2 tablespoons lower-sodium soy sauce

2 tablespoons Thai sweet red chili sauce

1½ tablespoons rice vinegar

1 tablespoon sesame oil (not toasted)

1 garlic clove, minced

1 teaspoon ginger, freshly grated
Directions
Combine rice, 2 cups of water, and a dash of salt in a small saucepan. Bring the mixture to a light boil, cover the pot, and reduce heat to low. Let the rice simmer for 13 to 15 minutes, until most of the water is absorbed. Replace the lid and turn off the heat. Allow the pot to sit, undisturbed, for another 10 minutes, or until you're ready to assemble the bowls.

Prepare the Firecracker Peanut Sauce by combining peanut butter, soy sauce, red chili sauce, vinegar, sesame oil, garlic, and ginger in medium bowl. Stir mixture with a whisk until smooth. If needed, whisk in 1 Tbsp. water to thin out to desired consistency.

Prepare the salmon by seasoning the flesh with salt and pepper. Heat olive oil in a large skillet over medium-high heat. Once hot, Place the fish skin-side down in the pan, pressing down firmly with a spatula. Let the salmon cook about 3 minutes, until it appears ~75% cooked on the sides. Flip the salmon, turn off the heat, and cook for 1 to 3 more minutes, depending on thickness, until cooked through. Remove from heat.

Combine shredded cabbage, green onion, vinegar (or lime juice), and a dash of salt in a medium bowl; toss to combine.

Divide rice evenly into each of four bowls. Top each bowl with one salmon fillet and a spoonful of cabbage slaw. Next, drizzle peanut sauce evenly over all components, and garnish with chopped peanuts and extra green onion, if desired.