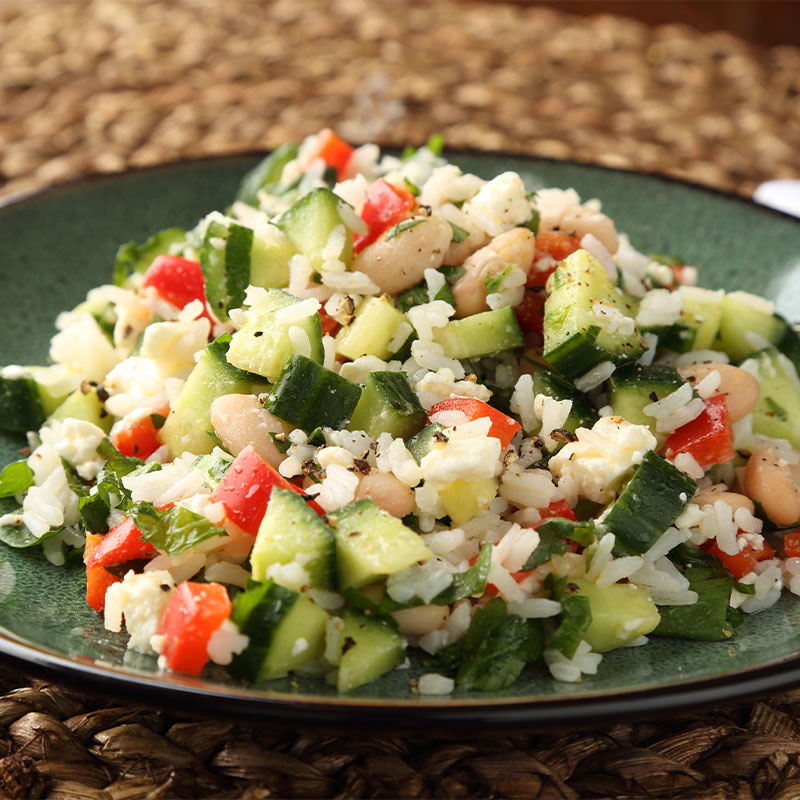 Fresh Parsley & Mint Rice Salad
Every bite of our nutritious Fresh Parsley and Mint Rice Salad is packed with flavor! This salad is a great way to utilize leftover rice and comes together in just 20 minutes.

This dish is part of the "Meatless Mains in Minutes" recipe series, a collection of hearty vegetarian concepts that take no more than 30 minutes of total cook time.
Servings

5

Serving Size

1½ cups

Prep Time

20 min

Total Time

20 min
Ingredients
3 cups cooked chilled rice

1½ cups chopped cucumber, preferably English

1 large red bell pepper, chopped

1 cup chopped fresh parsley

1 cup chopped fresh mint (or one 0.75-ounce pkg.)

¼ cup extra virgin olive oil

2 tablespoons cider vinegar

1 garlic, minced (or 1/2 teaspoon minced garlic from jar)

1 teaspoon salt or to taste

pinch of dried pepper flakes, optional

½ (15-ounce) can navy or great northern beans, rinsed and drained

1 (3.75-ounce) pkg. crumbled reduced-fat or regular feta cheese

black pepper to taste

Directions
Combine the rice, cucumber, bell pepper, parsley, mint, oil, vinegar, garlic, salt, and pepper flakes in a large bowl.

Gently stir in the beans and feta until blended. Sprinkle with black pepper. For peak flavors and texture, serve within 24 hours.

Makes 8 cups total.
Recipe Notes
No cooked rice on hand? Cook 1 cup rice according to package directions and immediately place on a baking sheet coated with cooking spray in a thin layer. Let stand 8-10 minutes to cool quickly! (Coating baking sheet prevents the rice from sticking the pan while cooling.)

For a dairy-free salad, replace feta with the full can of beans.
Nutrition Facts
Serving

1½ cups

Calories

330

Total Fat

14g

Saturated Fat

3.5g

Trans Fat

0g

Cholesterol

10mg

Sodium

850mg

Carbohydrates

38g

Dietary Fiber

3g

Sugar

2g

Protein

10g