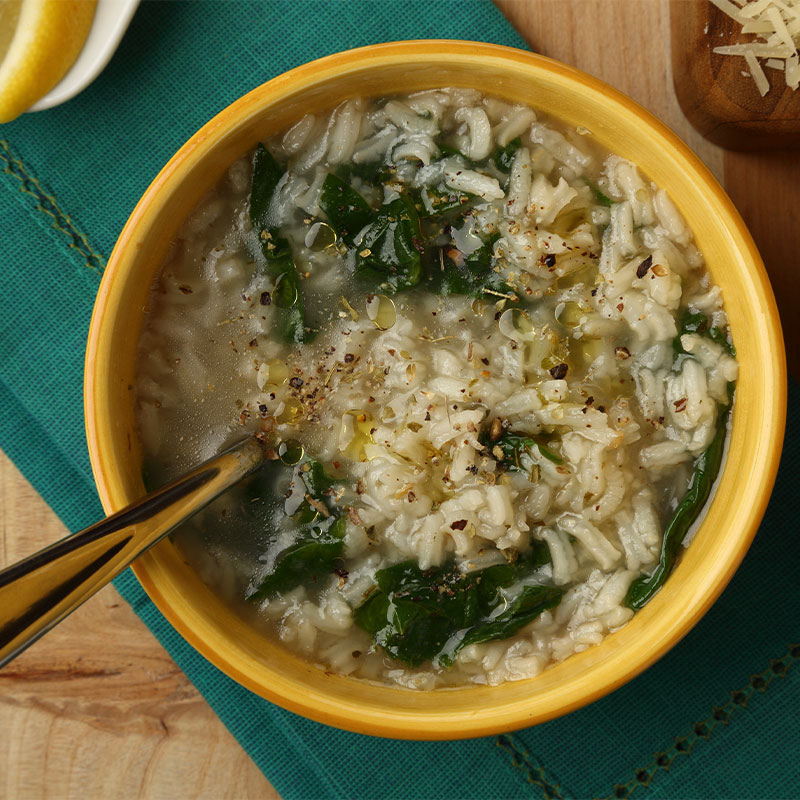 Fresh Spinach-Rice Soup with Parmesan
Make life easy with our "No-Measure" Fresh Spinach-Rice Soup with Parmesan recipe-all you need to measure is a cup of rice!
Servings

6

Serving Size

1½ cups soup; ¼ cup cheese

Prep Time

5 min

Cook Time

25 min

Total Time

30 min
Ingredients
1 cup long grain white rice, uncooked

2 (32-oz) cartons of chicken broth

1 large onion, chopped

dried oregano or italian seasoning (to taste)

garlic powder (to-taste)

1 (6-oz) package fresh spinach

1 large lemon, halved

extra virgin olive oil (to-taste)

1 (6-oz) package shredded parmesan cheese

black pepper (to-taste)
Directions
Place broth and onion in a large saucepan or Dutch oven and bring to boil over high heat. Stir in the rice and sprinkle generously with oregano and garlic powder. Return to a boil, reduce to low heat, cover and cook 15 to 18 minutes or until rice is tender. Remove from heat.

Stir in the spinach until just wilted. Squeeze the juice of the lemon into the soup and drizzle with oil to taste. Spoon into bowls, top with cheese, and sprinkle with black pepper to taste.

Makes 9 cups soup and 1½ cups cheese total. Serves 6 with 1½ cups soup and ¼ cup cheese per serving.
Recipe Notes
Cook's Note: A large onion generally weighs about 6 oz. and is about 1 1/2 cups chopped.

Cook's Note: Cover leftover soup and refrigerate up to 2 days. The rice will cause the soup mixture to thicken overnight. May serve as a risotto when reheated or for a thinner soup-like dish, add chicken broth or water to the desired consistency.
Nutrition Facts
Serving

490g

Calories

280

Total Fat

8g

Saturated Fat

5g

Trans Fat

0g

Cholesterol

20mg

Sodium

1200mg

Carbohydrates

33g

Dietary Fiber

2g

Sugar

2g

Protein

19g