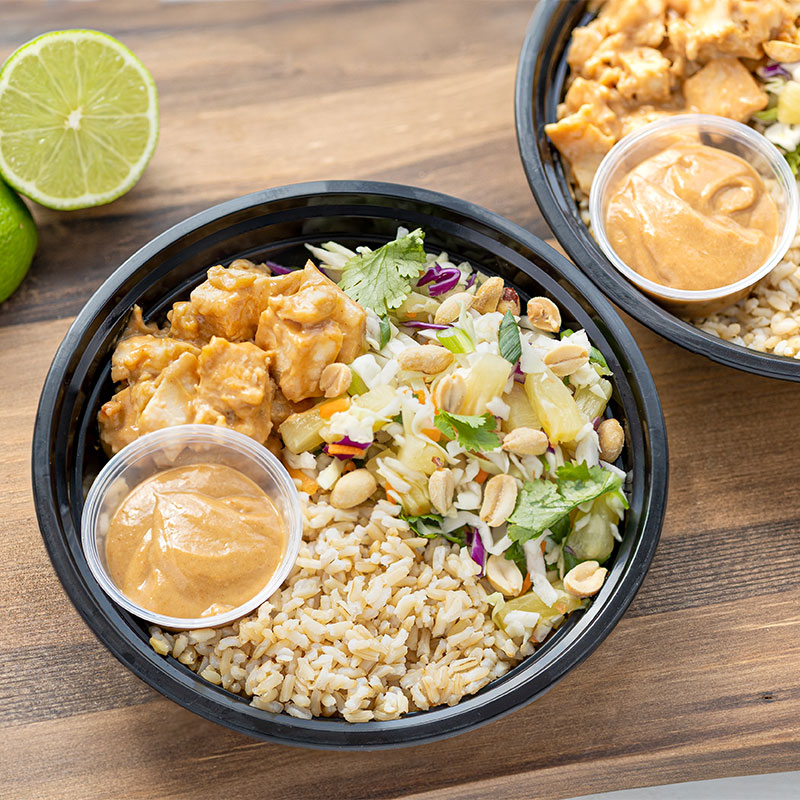 Fresh Thai Chicken and Rice Salad
Bursting with fresh, flavorful ingredients, this grab-n-go salad will make a reimbursable meal that students will love and is a creative way to utilize leftover rice!

This tasty K-12 school recipe was created for us by our friend Chef Sam Cowens-Gasbarro of Healthy School Recipes. Click on the PDF below to download the full recipe with crediting from the USDA Food Buying Guide recipe analysis workbook (RAW).
Servings

50

Serving Size

1 salad
Ingredients
3¼ pounds brown long grain rice, parboiled, dry

3 ¼ quarts water

6 ¼ pounds chicken, diced, cooked

4 pounds coleslaw mix

#10 can (106 ounces) pineapple tidbits packed in juice (do not drain)

2 cups cilantro, roughly chopped
2 cups scallion, cut on bias
Peanut Sauce

2 ½ pounds peanut butter, smooth

2 ½ cups water

1 cup soy sauce, less sodium

1 cup brown sugar

1 cup lime juice

½ cup sesame oil, toasted

¼ cup sriracha

4 teaspoons ginger, ground

2 teaspoons garlic, granulated

1 teaspoon cayenne pepper
Directions
Combine rice and water into a steamtable pan. Stir to combine. Cover tightly.

Oven Method: Cook in a 350 °F oven for 35 to 40 minutes.
Steamer Method: Cook in a steamer for 25 to 30 minutes.

CCP: Heat to 135 °F for at least 15 seconds.

Remove from oven or steamer and let sit for 10 to 15 minutes.

Cool properly. CCP: Cool from 135 °F to 70 °F in 2 hours and from 70 °F to 41°F in 4 more hours.

Combine chicken and 1 quart of peanut sauce (for 50 portions)

Serve each salad with an additional 1 ounces of peanut sauce.

Combine coleslaw mix, pineapple tidbits (with juice), cilantro, and scallions.
Peanut Sauce

Combine all ingredients until well mixed.
Let the sauce sit at room temperature for 15 minutes before using it. It will be smoother and easier to work with.
Assembly

Place ½ cup (# 8 scoop) of rice in serving container. Top with 2 ounces of chicken and #6 scoop (2/3 cup) of coleslaw mixture.

Serve with 1 ounce of peanut sauce to be drizzled over salad.
Recipe Notes
One Bowl Provides: 1 oz. eq. whole grain, ½ cup vegetable, ¼ cup fruit, 2 oz. eq. m/ma.

Peanut sauce yield: 10 cups for 50 servings.

Source: Samantha Cowens-Gasbarro, Healthy School Recipes
Nutrition Facts
Serving

1 salad

Calories

430cal

Total Fat

17g

Saturated Fat

3.5g

Cholesterol

35mg

Sodium

330mg

Carbohydrates

44g

Dietary Fiber

4g

Sugar

4g

Protein

23g