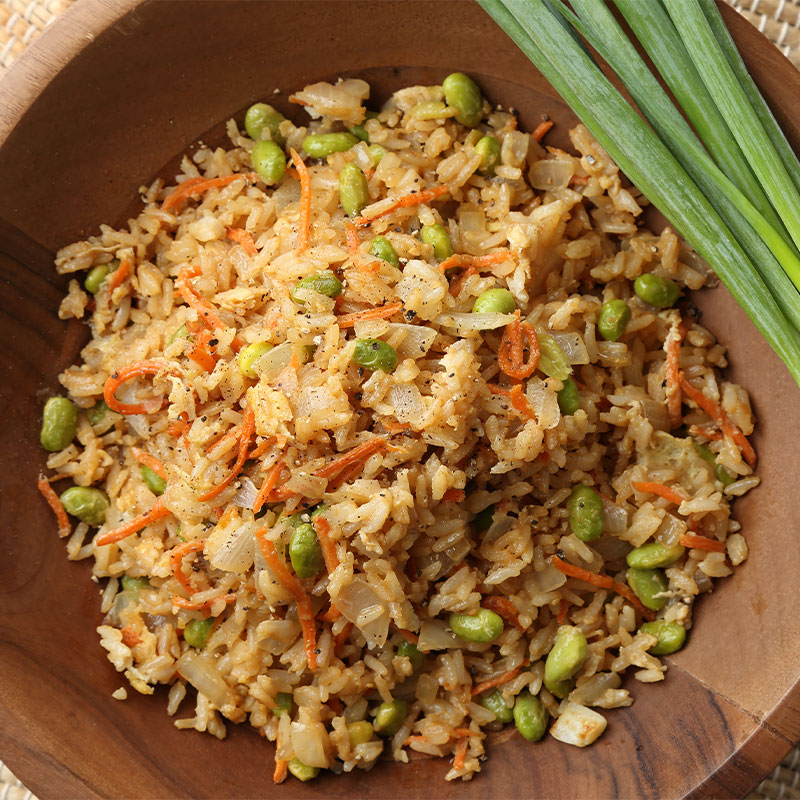 Fried Rice Stir Up
Young chefs will love to make and eat our Fried Rice Stir Up. This leftover-utilizing dish comes together in just 20 minutes!

This recipe is part of "The Kids' Kitchen" series, a collection of approachable recipes that teach children the basics of cooking through the preparation, assembly, and plating of each dish (adults are asked to handle any oven or stovetop instructions).
Servings

4

Serving Size

1¼ cups

Prep Time

12 min

Cook Time

8 min

Total Time

20 min
Ingredients
3 cups cooked white rice

¼ cup butter

1 cup chopped onion

1 cup matchstick carrots

¾ cup fresh or frozen, thawed edamame

½ teaspoon garlic powder

3 tablespoons reduced sodium or regular soy sauce

1 teaspoon toasted sesame oil

2 eggs, beaten

salt to taste

¼ cup chopped green onion, optional

Directions
Melt butter in a large skillet over medium heat, add onion and carrots, cook 4 minutes or until onions are soft, stirring frequently.

Stir in the rice, edamame and garlic powder, cook 2 minutes or until heated through.

Add the soy sauce and oil, stir until well blended.

Drizzle the egg evenly over all and cook 30 seconds or until egg is cooked, stirring constantly and lightly season with salt and sprinkle with green onion, if desired.

Makes 5 cups total
Recipe Notes
Make sure everything is prepped and ready before beginning the cooking process, it goes quickly.

A super easy, waste-free technique is to store "any amount of leftover cooked rice in a quart-size resealable bag. When the bag is almost full…make fried rice!
Nutrition Facts
Serving

1¼ cups

Calories

370

Total Fat

17g

Saturated Fat

8g

Trans Fat

0g

Cholesterol

125mg

Sodium

480mg

Carbohydrates

44g

Dietary Fiber

3g

Sugar

4g

Protein

11g