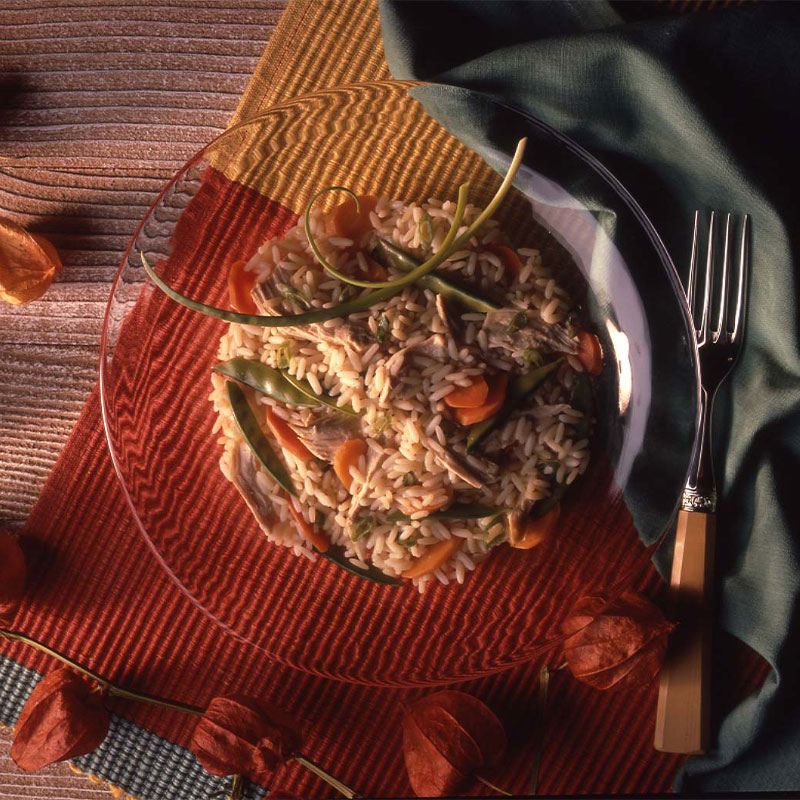 Ingredients
2 teaspoons vegetable oil

2 teaspoons ginger root, grated fresh

1 clove garlic, minced

1 cup cooked chicken, diced

1 cup snow peas, cut into 1-inch pieces

½ cup carrots, thinly sliced

½ cup green onions, sliced

3 cups cooked rice, chilled

2 tablespoons soy sauce

1 teaspoon sesame oil

⅛ teaspoon ground white pepper

Directions
Place a wok or wide frying pan over high heat until hot. Add oil swirling to coat sides. Add ginger root and garlic. Cook, stirring, until fragrant, about 15 seconds.

Add chicken, peas, carrots, and onions; stir 1 minute.

Add rice; stir to separate grains with back of spoon. Mix well. Stir in soy sauce, sesame oil, and pepper; cook until thoroughly heated.
Nutrition Facts
Calories

184

Total Fat

4g

Cholesterol

19mg

Sodium

496mg

Carbohydrates

26g

Dietary Fiber

1g

Protein

10g