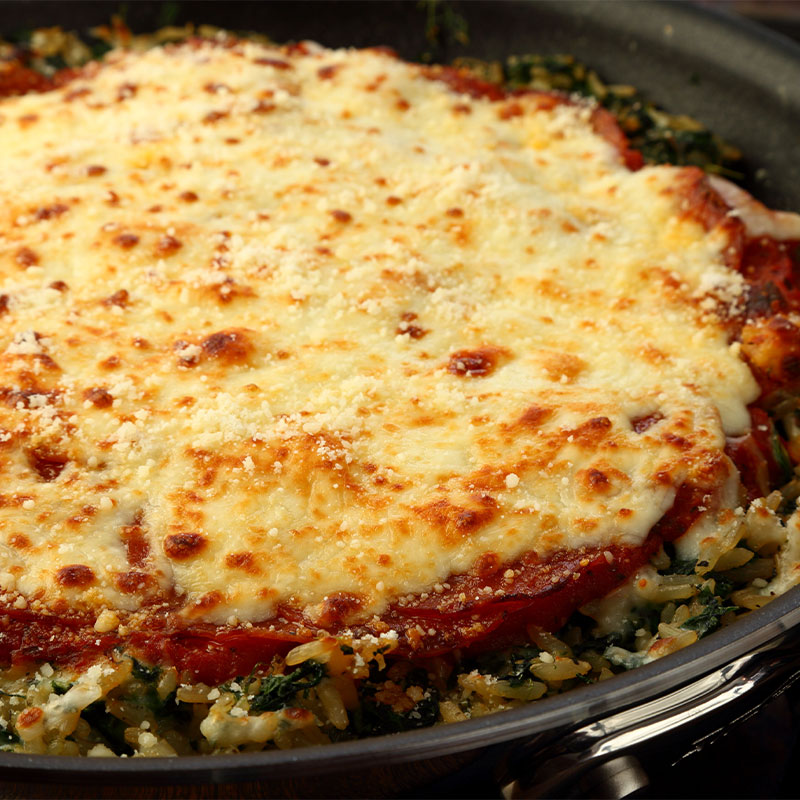 Italian Pepperoni Rice Bake
This USA Rice affordable recipe totals at $8.21 with a breakdown of $2.05 per serving.
Ingredients
1 cup instant brown rice

1½ teaspoons dried basil

1 (10 oz) package frozen chopped spinach, thawed, reserving liquid

½ teaspoon salt

1 (8 oz) package shredded part-skim mozzarella cheese, divided use

½ cup grated parmesan cheese, divided use

1 (14 oz) jar or 2 cups of spaghetti sauce pizza sauce

30 ( 2 oz) thin pepperoni slices
Directions
Preheat oven to 350 degrees F.

Cook rice and basil in a medium skillet according to rice package directions. Remove from heat. Stir in the spinach, reserved liquid and salt until well blended. Add half of the mozzarella and all, but 2 Tbsp. of the Parmesan cheese and stir gently until well blended. (See note below.)

Spoon the pizza sauce evenly over all, top with the pepperoni (overlapping slightly) and sprinkle with remaining mozzarella cheese; bake 25-30 minutes or until beginning to lightly brown on edges. Sprinkle with remaining Parmesan cheese.

Recipe Notes
Most skillets are ovenproof in a 350 degree F oven, but the rice-spinach mixture may be transferred to a 2-quart baking dish, topped with remaining ingredients and baked as directed.
Moneysaving Tip: You may purchase dried herbs and spices at your local dollar store for a fraction of the supermarket price