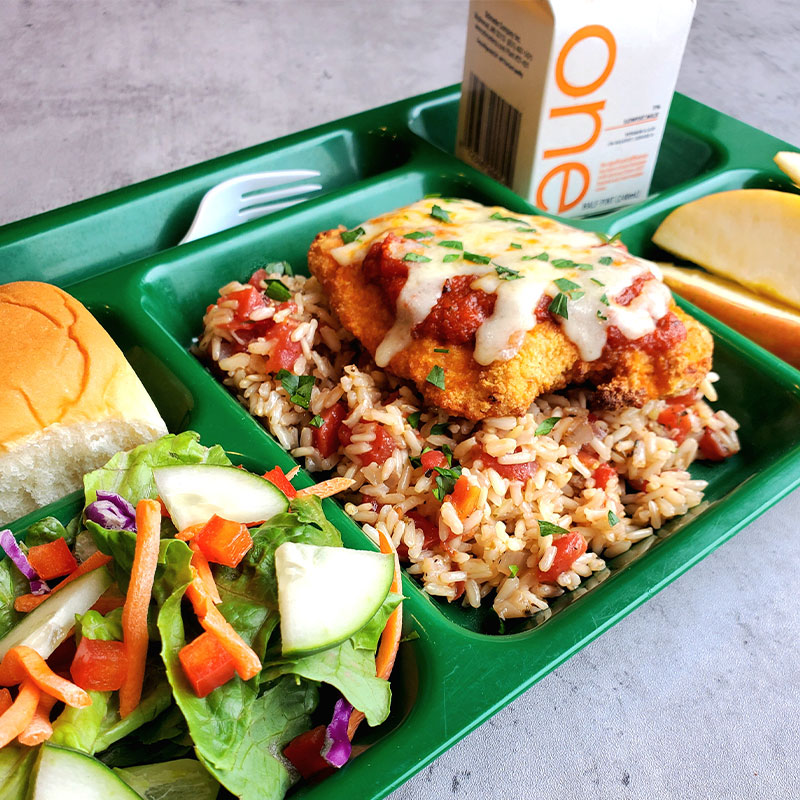 Italian Rice Pilaf
Italian Rice Pilaf, also known as "Risotto Pilaf," is a savory and flavorful rice dish that is cooked with onions, garlic, and a variety of herbs and spices. It's a delicious and comforting dish with a slightly nutty flavor and a creamy texture.

This recipe features U.S.-grown brown long grain rice and comes to us from Chef Rebecca Polson of USA Rice's K-12 Chef Advisory Board.
Servings

50

Serving Size

1 cup
Ingredients
6 lb, 4 oz brown long grain rice, parboiled

1 lb tomatoes, diced (fresh or canned)

8 oz yellow onion, diced

¼ cup olive oil

¼ cup Italian seasoning

1 tbsp garlic, granulated

2 tsp salt, kosher

2 tsp black pepper

1 gallon +2 quarts broth, vegetable or water, hot

Optional garnish: chopped parsley, grated parmesan
Directions
Preheat oven to 350º.

Add rice, tomatoes, onion, oil, and spices to 4 inch hotel pan. (Multiple pans may be needed depending on servings.) Stir until rice is coated in oil and spices.

Pour hot water or stock over rice blend.

Cover pan with parchment and foil to create seal.

Bake in oven for approximately 55 minutes or until all liquid has been absorbed by rice.

Hot hold at 135º or above, leave covered until service, do not stir.

Fluff with fork right before service.

Serve with 8 oz spoodle.

Optional Garnishes: Chopped Parsley, Grated Parmesan.
Recipe Notes
2 oz Grain